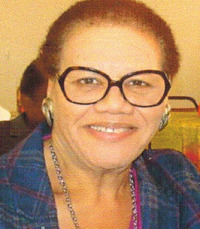 Mrs. Margie Ruth Carrouthers Byers, beloved daughter of the late Edward Thomas and Margaret Belk Carrouthers, was born in Mecklenburg, N.C., on July 23, 1945. She peacefully passed from this mortal life into her heavenly home on Sunday, May 24, 2020, surrounded by her family.
She graduated from York Road High School in Charlotte, N.C., in 1963. After high school, she received her B.S. degree in Biology in 1967 in Concord, N.C. She taught Biology for 22 years at Mooresville High School, and while there she served as the Student Council advisor for over 14 years. She was honored with a State Student Council Advisor of the Year plaque. Mrs. Byers also worked for 13 years as a school counselor at Statesville High School, as well as SAT and ACT College Entrance Testing Coordinator, Teaching Fellows Coordinator and as a 504 School Representative. Margie retired on June 30, 2003, after 35 years in the education field.
On December 20, 1969, Margie was married to Jonathan Byers Sr. Mrs. Byers grew up a Presbyterian in Charlotte, but became a Baptist after meeting her best friend and love, Jonathan. With their union, she became a member of St. James First Baptist Church in Mooresville. At St. James, Margie poured her heart into several roles. She served as a Youth Director, Deaconess, Church Clerk, Bible Study Director, Sunday School Teacher, Vacation Baptist Church Director, Usher, Usher trainer, and the Church Treasurer.
Mrs. Byers also became a loyal and dedicated member of the Mt. and Catawba Missionary Baptist Association, where she served as the Assistant and Director of the Christian Education, and a member of the Executive Board. In her official capacity, she was called on to conduct several training workshops in such areas as church ushering, church etiquette, and improving the Sunday School. She also served as the Recording Secretary of the Association.
Margie also conducted sex education, AIDS, Parent-to-Parent and College-Prep workshops at church and community groups. Her hobbies were sewing, holiday decorations, reading and cooking special desserts and casseroles. She loved her family, she loved to laugh, to hold babies and she was a very kind-hearted lady.
She leaves to cherish her memories her loving and devoted husband, Jonathan Edwin Byers of Christiansburg, Va.; one daughter, Crystal (Stacy) Harris of Statesville; one grandson, Tayshon Harris of Statesville; one brother, Charles Carrouthers of Charlotte; one sister, Shirley (Charles) of Winston-Salem, N.C.; a special niece, Margaret Davis of Greensboro, N.C.; one aunt, Mrs. Grace Chambers of Charlotte, N.C.; and a host of relatives, neighbors, former work associations, The St. James First Baptist Church Family, The Mountain and Catawba Baptist Association, and friends.
Celebration of Life Services will be conducted on Thursday, May 28, 2020, at 1 p.m. at Rutledge and Bigham Funeral Home. Reverend Carl Williams will officiate and Pastor James Shade will eulogize. Burial will follow in the St. James First Baptist Church Cemetery in Mooresville, N.C.
Visit the Book of Memories for Mrs. Byers at www.rutledgeandbigham.com. Rutledge and Bigham Funeral Home, 603 South Center Street, Statesville, NC is serving the family of Mrs. Margie Carrouthers Byers.
In lieu of flowers, memorials may be made to the Gordon Hospice House, 2341 Simenton Road, Statesville, NC 28625, in Memory of Mrs. Margie Byers.
Family will be at the residence of her daughter and son-in-law, Crystal and Stacy Harris, 1807 Arlington Avenue, Statesville, N.C.
General Public viewing will begin at 4 p.m. on Wednesday, May 27, 2020, at the funeral home and will resume on Thursday, May 28, 2020, at 9 a.m. until the funeral hour.
There will be no public visitation. Unfortunately, with the COVID-19 crisis, Rutledge and Bigham Funeral Home, along with other funeral homes across the country, has been issued a mandate to limit the number of family and/or friends at funeral services. You can only enter the funeral with a funeral pass, which will be given to the family.
Rutledge & Bigham Funeral Home is serving the family.