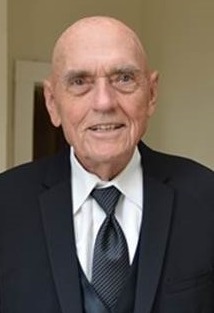 Paul Foster Haughton Sr., 91, of Troutman, N.C., passed away, Sunday, April 12, 2020.
Mr. Haughton was born February 25, 1929, in Bakersfield, Calif., and was the son of the late Gayle and Charlcie Foster Haughton. He was a graduate of Trona, Calif., High School and graduated Phi Beta Kappa from The University of Alabama. He served in the U.S. Air Force and on December 13, 1969, he married the love of his life, Wanda Hayes Haughton. He was one of the founders of Romac Metals Inc. in 1969 and American Stainless Tubing Inc. in 1994.
In addition to his wife, he is survived by six children, Cory Haughton (Susan) of Chattanooga, Tenn., Beth Painter (Ray) of Chattanooga, Tenn., Paul F. Haughton Jr. of King George, Va., Rex Haughton (Caroline) of Troutman, Julia Haughton-Baldridge (Keith) of Nashville, Tenn., and Maria Roberson (Kevin) of Troutman; 19 grandchildren, and 19 great grandchildren with another due in June.
Highly intelligent, Paul was successful in more than just business. He played piano by ear and could sit down and play anything that he heard. Growing up in the Mojave Desert, he was fascinated by plants once he moved to North Carolina. In addition to his beautiful yard, he had a lovely garden. He canned vegetables, made jams, awesome pickles and even his own wine. Paul was especially proud of his tomatoes and delighted in giving tomatoes and tomato plants to his friends. He loved to share his knowledge with anyone that had a listening ear. Paul loved the dogs and cats that became part of his family and fondly reminisced about their adventures. Paul was a very special man that touched many lives. He will be truly missed by all that knew him.
Graveside funeral services will be at 2 p.m. on Wednesday, April 15, 2020, in the New Perth ARP Church Cemetery.
In lieu of flowers, memorials may be made to the J. Hoyt Hayes Memorial Troutman Branch Library, 215 W. Church Street, Troutman, NC 2816. Online condolences may be made to the family at www.troutmanfuneralhome.com.
Troutman Funeral Home is serving the family.