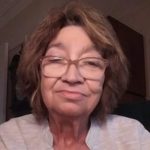 Phyllis Ann Harmon Tiller, 71, of Statesville, N.C., passed away Tuesday, January 28, 2020, at her residence.
Born on March 18, 1948, in Jenkin Jones, W.Va., she was the daughter of the late Walter Johnson Harmon and Edith Steele Muzzleman Harmon.
Phyllis worked as a nurse in healthcare services. She was inter-denominational and believed in our Lord Jesus Christ. Her faith was in God.
Those left to cherish her memory are her daughters, Fayth Edwards and Crystal Tiller; one brother, Walter Harmon Jr.; one sister, Pansy Hancock; grandchildren, Terrance Edwards, Torry Edwards, Kalynn Tiller and Monica Headen; and her great-grandchildren, Juelz Bowman, Lakia Edwards, Simar Edwards, Julian Edwards and Sophia Villalta.
A memorial service will be held Saturday, February 1, 2020, at 2 p.m. in the chapel of Bunch-Johnson Funeral Home.
Online condolences may be left at www.bunchjohnsonfuneralhome.com.
Bunch-Johnson Funeral Home is serving the Tiller family.