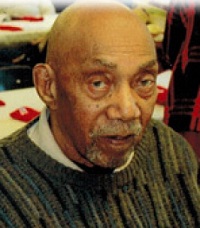 Mr. Rodney Ramseur Jr., 97, of 204 McAllister Road, Statesville, was born in Rowan County on December 5, 1922, and was the son of the late Rodney Ramseur Sr. and Nannie Summers Ramseur. He passed away at his residence following an extended illness on Monday, February 17, 2020, in Statesville.
June, as he was affectionately called, attended the Iredell County Schools and was a lifelong member of Chestnut Grove Baptist Church. He served as a member of the Deacon Board and Male Choir. Rodney retired from J. C. Steele and Sons after twenty-eight years of faithful service.
He was united in marriage to Mary Angeline Holland Ramseur, who preceded him in death on December 23, 2018. In addition to his wife and parents, he was preceded in death by a son, James Rodney Ramseur; a grandson, Isaiah Ramseur; five brothers, Whitfield Ramseur, John Ramseur, Melvin Ramseur, Ray Ramseur and Thomas Ramseur; and a sister, Elnora Wilson.
He leaves to cherish the memory of his life three sons, Rev. Robert Lewis (Lorna) Ramseur of Statesville, Donald Edward (Debbie) Ramseur of Lithonia, Georgia and William Andrew Ramseur Sr. of the home; three daughters, Elizabeth Ann Ramseur, Mary Frances (William) Tatum and Carol Elaine Ramseur, all of Decatur, Ga.; a daughter-in-law, Gloria Ramseur of Troutman; one brother, Shirley (Mildred) Ramseur of Statesville; four sisters, Lottie Chambers, Blondean Ramseur, Betty James and Deborah Ramseur; five sisters-in-law, Dorothy White, Ruth Turner, Lillian Holland, Sarah Ruth Ramseur, and JoAnna Ramseur; two brothers-in-law, Jimmy Lewis (Tina) Holland and Jerry (Orian) Holland; eighteen grandchildren, Brad Armstrong of New Port, Dereck (Tonekia) Turner and Toni (Kenny) Martin, both of Winston-Salem, LaToya (James) Lester of Benson, West Virginia, James (Dana) Ramseur Jr. of Greensboro, Robert (Billie) Ramseur Jr. of Statesville, Shauntay (Adrian) Cloud and Michelle Elizabeth Ramseur, both of Charlotte, Tonya (Patrick) Strout, William Franklin Tatum and Casey Renee Tatum, all of Mocksville, Yolanda Joy Ramseur of Decatur, Ga., Christopher Wayne Ramseur of Alexandria, Va., Brianna Ramseur of Decatur, Ga., Kimeka Nicole Ramseur, Cassandra A. Ramseur, Katrina Yvette Ramseur and William (Whitley) Ramseur, all of Statesville; a host of great grandchildren; a special niece, Joyce (Donald) Breedlove of Statesville; a special cousin, James Ramsue; and a host of nieces, nephews, cousins, other relatives, The Chestnut Grove Baptist Church Family and friends.
Celebration of Life Services will be conducted Friday, February 21, 2020, at 1 p.m. at Chestnut Grove Baptist Church in Statesville, N.C. Reverend Dale Gibson, Pastor, will officiate and Reverend Robert Ramseur will eulogize with burial to follow in the Church Cemetery. Mr. Ramseur will remain at Rutledge and Bigham Funeral Home until taken to the church to lie in state at 12 p.m. Members of the family will receive friends at the church from 12:30 until 1 p.m., but will assemble at the residence at other times.
Visit the Book of Memories for Mr. Ramseur at www.rutledgeandbigham.com. Rutledge and Bigham Funeral Home is serving the Ramseur Family.