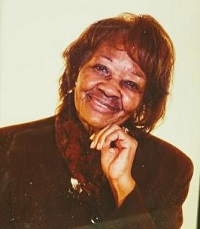 Rosa Lane was born on May 1, 1929, in Darlington, S.C., and was the daughter of the late Leslie Boyd and Lula Gee. She departed this life on Friday, December 11, 2020.
Rosa received her education in Darlington Public Schools. She was well-known as a stylish and well-dressed woman. She also loved her family and others very much. Rosa helped raised and supported many of her nieces and nephews. She was a caring, loving sister, aunt and for many (mom).
Rosa went to New York at a young age, where she lived for 40 years. Rosa met and married her husband, Tony Lane. She had a wonderful marriage; they worked together throughout their marriage. She was an entrepreneur, a certified nursing assistant, and residential caregiver. When her husband became ill, Rosa cared for him until his death. After retiring, she moved to Florence, S.C., where she lived for 10 years before moving to Statesville, N.C. Rosa has always been an independent person and wanted to care for herself.
Rosa had three brothers, L. Gee, Henry Gee, and Leslie Gee Jr.; and two sisters, Lillie Mae Lunn and Essie Haynes; and a favorite brother-in-law, Jack Lunn, who preceded her In death.
While in New York, she started studying the Bible with Jehovah's Witnesses. She enjoyed what she was learning from the Bible. Rosa was happy to learn God had a name, there will be a new world, and the hope of the resurrection.
She leaves to cherish the memory of her life her nieces, Barbara ( Bernard) Davidson of Statesville, N.C., Marcella Brown, Patricia Lunn of Florence, S.C., Mary (Westley) Coles of Glendale, Ariz., Joan (Kevin) Hicks and Carolyn (Jessie ) Graham, both of Darlington, S.C., Shirley (Clyde) Green, of South Carolina; a nephew, Jackson Lunn Jr. of East Elmhurst, N.Y.; and a host of grand nieces, nephews, cousins, other relatives and friends who loved her dearly.
Rutledge and Bigham Funeral Home is serving the family.