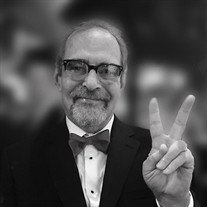 Stephen "Steve" Howard Kivett, 67, passed away unexpectedly on Friday, July 17, 2020. A native of Statesville, N.C., Steve was born on December 18, 1952, to Howard Eugene and Patricia Pratt Ferguson Kivett.
Steve was an honorable man.
He was a 1971 graduate of Statesville Senior High School and served as senior class president. After graduation, Steve was drafted into the U.S. Army, where he served as an Army medic for three years while being stationed in Augsburg, Germany. He was awarded the National Defense Service Medal. After being honorably discharged from the Army, Steve managed a Kivett Oil gas station, but decided his life's work would be taking care of people. Steve then attended Mitchell Community College and was the first male nursing graduate from Davis School of Nursing.
Steve began his nursing career in the Critical Care Unit at Iredell Memorial Hospital in Statesville and later became the head nurse of that unit. In 1987 Steve oversaw the opening of Iredell Memorial's first Hemodialysis Department. Through that experience, he became active with United Way and Iredell County Kidney Coalition, where he worked to ensure transportation for all dialysis patients in Iredell County. Steve retired from the hospital in 2018 after over thirty years of service.
While working at the hospital, Steve met the love of his life, Sarah Lynn Thomasson of Hamptonville. Steve and Sarah were married for 33 years.
Throughout his life, Steve loved and faithfully served his family and his church. He was a committed father and a devoted fan of their various schools, Boy Scouts, and sports pursuits. Steve served as Statesville Christian School's first PTA president. Never missing his children's soccer games, Steve became known for handing out lollipops to the players' parents to help calm tensions after controversial calls.
He was a dedicated member of Western Avenue Baptist Church and taught the Steve Kivett Sunday School Class for 10 years. Steve was an avid reader, enjoyed going to the beach, watching Atlanta Braves baseball, and watching British Premier League soccer. During his retirement Steve, enjoyed being a member of the Statesville Senior Bowling League.
Steve was preceded in death by his parents and survived by his wife; three children, Wesley Grey (Heidi) of Statesville, Julie Armstrong (Andrew Daniel) of Raleigh, and Samuel Howard Kivett of Raleigh. He is also survived by sister Carole Kivett Blane (Steve) of New York City, brother Paul Clifford of Statesville, sister Kathryn Ella Kivett Tsumas of Statesville, step-siblings Elizabeth Strohman (Jim) of Ashland, Va., and Robbie White (Julia) of Huntersville. Steve is also survived by his four adoring grandchildren, Carson, Caedon, Cohen, and Indie Grey, along with many nieces and nephews, all of whom loved him very much. His nieces and nephews loved going bowling with him, playing Christmas Bingo, and could always count on a good hug from their Uncle Steve.
Visitation and a memorial service will be held Tuesday, July 21, 2020, at the home of the family, 465 Summit Avenue, Statesville, NC 28677. Visitation will begin at ten o'clock in the morning, with the memorial service to follow at eleven o'clock. The family requests guests bring a lawn chair and a facemask as we observe social distancing guidelines.
A private graveside service will be held at a later date.
Memorials may be sent to Power Cross of Statesville, 1133 West Front Street, Statesville, NC 28677, and Rainbow Kids of Hospice and Palliative Care of Iredell County, 2347 Simonton Road, Statesville, NC 28625.
As you go through life, remember to be a good citizen.
The service will be live streamed on the Nicholson Funeral Home Facebook page starting at 11:00. You may go to the page prior to the service and "like" the page and sign up for notifications. This will pop up when the Live begins.
Nicholson Funeral Home is serving the family.