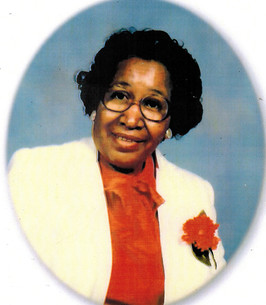 Mrs. Thelma Lillie Miller Ramsue, 92, of Cleveland, N.C., daughter of the late James William and Martha Parker Miller, was born in Alexander County on April 22, 1928. She passed away at her home on Monday, August 3, 2020, following an extended illness.
She was educated in Alexander County Schools and was the Valedictorian of the Class of 1948 at Happy Plains High School in Taylorsville, N.C. She also attended Russell's Commercial Business College.
She retired from Belk department store in Statesville, N.C., and lastly worked at Maple Leaf Health Care, also in Statesville. At an early age, she confessed Christ and became a member of Third Creek Baptist Church. As a youth, she served as an usher. She enjoyed attending Sunday School, writing poetry for the church and serving on the church's History Committee. She was also a member of the Golden Women's Club.
She was affectionately known as "Aunt B" to her family. She enjoyed sewing, playing the piano, writing poetry, baking and spending time with her family and friends.
She was preceded in death by her husband, Lonzo B. Ramsue Jr.; her beloved sisters, Ida Belle Miller, Creola Moore and Edna Little; her grandparents, Albert and Harriett McClelland Parker and William and Emily Alexander Miller; and one step-grandchild, Gary Eugene Bryant.
She leaves to cherish the memory of her life a step-daughter, Zandra Bryant of Cleveland; a cousin who was like a sister to her, Ophelia Bennett of Stony Point, N.C.; three step-grandchildren, Stacy Bryant, Ebony Bryant and Jared Bryant, all of Cleveland; three nephews, William (Sharon) Little of Cleveland, Julian (Sonya) Ramsue of Orangeburg, S.C., and Dennis (Tonya) Ramsue of Dunn, N.C.; four nieces, Maria Moore of Hiddenite, N.C., Janet Moore of Taylorsville, Judy Daye of Salisbury, N.C., and Dr. Joyce (Orlando) Thompson of Cincinnati, Ohio; a close friend, Nellie Ramsue of Salisbury; best friend and cousin, Betty Banks of Stony Point; nine step great-grandchildren; four step great-great grandchildren; and a host of great-nieces, great-nephews, cousins, other relatives, church family and dear friends.
Celebration of Life Services will be conducted Friday, August 7, 2020, at 2 p.m. at Rutledge and Bigham Funeral Home in Statesville. Reverend Tommy Carpenter is her pastor, Minister Michael Lackey will officiate, and burial will follow in the Third Creek Baptist Church Cemetery in Stony Point. Mrs. Ramsue will remain at Rutledge and Bigham Funeral Home, where general public viewing will begin on Thursday, August 6, from 3 until 7 p.m. and will resume on Friday, August 7, from 9 a.m. until the funeral hour.
There will be no public visitation. Due to the COVID-19 pandemic, Rutledge and Bigham Funeral Home, along with other funeral homes across the country, has been issued a mandate to limit the number of family and/or friends at funeral services. You can only enter the funeral with a funeral pass, which will be given to the family.
Visit the Book of Memories for Mrs. Ramsue at www.rutledgeandbigham.com. Rutledge and Bigham Funeral Home is serving the Ramsue Family.