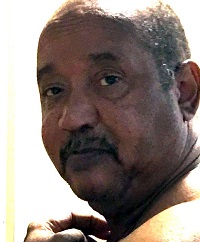 Mr. Willard Eugene Parker of 136 Arrowbrook Road, Harmony, N.C., answered God's call on Thursday, May 21, 2020, at the Gordon Hospice House following an extended illness. He was born in Iredell County on March 1, 1947, and was the son of the late Charlie (C.A.) Alfred Parker and Maggie Grimes Parker.
Mr. Parker was a graduate of Unity High School, Class of 1965. After high school Mr. Parker served in the U.S. Army and honorably served in the Vietnam War.
He is survived by his of wife of 51 years, Mrs. Brenda Miller Parker. In addition to his parents, he was preceded in death by a brother, Charles A. Parker Jr.; sisters, Linda Kay Bailey and Annie Lee Parker Kinney; and a cousin, Jimmie Murdock, who was like a brother to him. Also preceding him in death were his brother-in-law and sister-in-law, Robert and Mary Ann Gordie.
He was a member of Rocky Creek A.M.E. Zion Church in Harmony.
In addition to his wife, Brenda Miller Parker of the home he leaves to cherish the memory of his life his daughter and son-in-law, Denise (Todd) Gillespie of Harmony; three sisters, Peggy (Tyrone) Morrison, Maggie (Ted) Alexander and Kathy Grimes, all of Statesville; one granddaughter, Iesha (Lamar) Gillespie of Harmony; a grandson TJ "Heavy D" Gillespie of Raeford, N.C.; and one great grandson, Lawson Gillespie of Harmony. Additional survivors include special nephew and niece Robert Gordie Jr. and Kizler Kinney Heaggans, both of Statesville; and a host of other nieces, nephews, cousins, relatives, and special friends.
Mr. Parker will lie in repose at Bunch-Johnson Funeral Home on Monday, May 25, 2020, from 9 a.m. to 5 p.m. and again on Tuesday, May 26, 2020, from 9 to 10:30 a.m. A private invitation-only celebration of life service will be conducted at 11 a.m. on Tuesday, May 26, 2020, at Bunch-Johnson Funeral Home Chapel.
The family of Mr. Parker extends a special and heartfelt thank you to Hospice and Palliative Care of Iredell County and the staff of the Gordon Hospice House. In addition, many thanks are extended to Reverend James Boyce, pastor of Rock Creek A.M.E. Zion Church, and Reverend Donald Brown.
Bunch-Johnson Funeral Home is honored to be entrusted with the care of Mr. Parker and his family. Condolences may be sent to the family at http://www.bunchjohnsonfuneralhome.com.