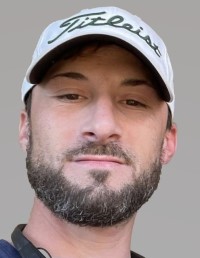 Brandon David Hedrick, 34, of Mooresville, N.C., passed away on Thursday, August 12, 2021. Though his life may have been cut short, it was not before he left his mark on many people, especially his family and friends. He lived his life unapologetically on his own terms, often much to the surprise of those around him or connected to him. He will be greatly missed!
Brandon was born on August 24, 1986, the son of Alicia W. Hedrick (Dale Walker) and Christopher S. Hedrick, both of Statesville, N.C. He was a graduate of Iredell County Schools.
Many memories and relationships sprung up from his adventures at the tracks and even in the race shop. Another passion he channeled with racing was using his talents as an artist. Brandon had explored many avenues for creating his pieces of art and one in particular was designing anything relating to NASCAR. Brandon was truly a "Shoe Connoisseur" and was self-employed selling them; he bought, sold, and traded unique and high-end "sneakers." His company BH_Kicks on Deck was his pride and joy.
Brandon was preceded in death by his paternal grandfather, Larry S. Hedrick, and his uncle, David Wise. Also preceding him in death were his great-grandparents, Dwight and Ethel Goforth, Grace Hedrick and Ernest and Mary Stevens.
In addition to his parents, Alicia and Chris, Brandon is survived by a son, Austin Wyatt; his brother, Bradley Hedrick; maternal grandmother, Linda Wise; and paternal grandmother, Sue Hedrick. Additional family members include nephew Parker French, uncle Derrick Wise (Valerie), aunt Suzanne Hedrick Osborne (Derek), cousins Ashton Wise, Taylor Osborne, and Nicole Osborne. A special uncle, Tommy Nesbit, would also like to be recognized.
Funeral services honoring the life of Brandon will be conducted at 11 a.m. on Saturday, August 21, at First Baptist Church with Dr. Jeff Porter and Dr. Nelson Granade officiating. Burial will follow the service in Oakwood Cemetery. A "Celebration of Life" service will be held on Sunday, August 29, 2021, at Walnut Branch Estate, 2294 Wilkesboro Highway, Statesville from 4 too 7 p.m.
Troutman Funeral Home is serving the family.