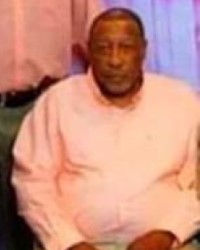 Mr. Charles Edward Chambers of 117 Imes Court, Statesville, N.C., passed away Saturday, November 6, 2021, following an automobile accident. He was born in Iredell County on May 7, 1950, and was the son of the late Edward Chambers and Hazel Mae Eckles. He was preceded in death by a sister, Burline Delores Chambers; a brother, Hillard Chambers; and a step-daughter, Nora Annette Symre.
He was a 1968 graduate of Unity High School and attended Chestnut Grove Baptist Church. He was employed by Port-a-Pit BBQ as a cook for over twenty years. He served with the United States Army and was honorably discharged.
He leaves to cherish the memory of his life his life-long companion, Lillian Holland of the home; one son, Cedric Donnell White Sr. of the home; one daughter, Melissa L. White of the home; three step-children, Teresa (Billy) Shephard of Atlanta, Ga., Clyde Curtis White of Statesville, and Vincent (LaChara) Holland of Troutman, N.C.; three sisters, Barbara Eckles, Geneva Tartar, Joann (Nathaniel) Dunlap, all of Statesville; one half brother, Shelby (Pamela) Misher of Statesville; special nephew, Quinton James of Statesville; two great aunts, Lottie Chambers of Statesville and Carrie Mae Eckles of Harmony; special friends, William Dalton Sr., David Redmon and Shelton Dalton, and Perry Lackey; fifteen grandchildren; fourteen great grandchildren; and a host of nieces, nephews, cousins, other relatives and friends.
Celebration of Life Services will be conducted at 1 p.m. on Friday, November 12, 2021, at Chestnut Grove Baptist Church. Reverend Dale Gibson, Pastor, will eulogize and Reverend Robert Ramseur will eulogize. Burial will follow in the Church Cemetery.
Mr. Chambers will remain at Rutledge and Bigham Funeral Home until taken to the church to lie in state at 12 noon Members of the family will receive friends at the church from 12:30 until 1 p.m., but will assemble at the residence at other times.
Visit the Book of Memories for Mr. Chambers at www.rutledgeandbigham.com.
Rutledge and Bigham Funeral Home is serving the Chambers family.