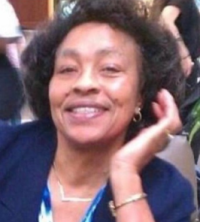 Christine Pruitt Lazenby, 74, of Woodleaf, N.C., was born on February 19, 1946, in Davidson County and was the daughter of the late John Matthew Pruitt and Evelyn Vinson Pruitt. She departed this life on January 20, 2021.
Christine was a 1963 graduate of R.A. Clement High School and attended Business College. She was retired from the food service industry and was a member of Knox Grove Baptist Church. She was proceeded in death by her two brothers, Samuel Pruitt and Sylvester Pruitt; and a sister, Elizabeth Neely.
She leaves to cherish the memory of her life, a wonderful husband, Willie James Lazenby Jr. of Woodleaf; two sons, Timothy B. (Susan) Lazenby of Concord, N.H., and Dwayne C. Lazenby of Columbia, S.C.; two sisters, Vera Eller of Salisbury, N.C., and Dorothy Fowler of Jamaica, N.Y.; two brothers, Walter Pruitt of Washington, D.C., and E. Victor (Monica) Pruitt of Lanexa, Va.; three granddaughters, Jessica Lazenby of Salisbury, N.C., Keisha Mock of Kernersville, N.C., and Alexis Lazenby of Chesapeake, Va.; three grandsons, Anthony Gadson of Woodleaf, N,C., DeAndre' Lazenby of Salisbury, N.C., and Andrew Lazenby of Chesapeake, Va.; five greatgrandchildren, Layla Mayo, Kayceion Lazenby, Josiah Gadson, Alexis Gadson, and Yalivia McCoy; and a host of nieces, nephews, uncles, aunts, cousins, other relatives and friends.
A funeral service is scheduled for Wednesday, January 27, 2021, at 12 noon at Rutledge and Bigham Mortuary, 603 S. Center Street, Statesville, N.C., with internment at Knox Grove Baptist Church in Cleveland, N.C.
Rutledge and Bigham Funeral Home is serving the family.