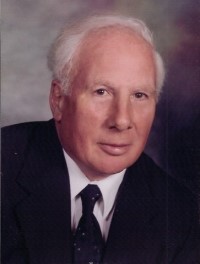 Nelson Vernon LaClair, 88, of Statesville, N.C., passed away on Saturday, January 23, 2021, at the Gordon Hospice House.
Nelson was born April 2, 1932, in Standish, Mich., and was the son of the late Armon and Lorene Bissonette LaClair. He was a graduate of Standish High School in Michigan and served in the U.S. Army in Europe during the Korean Conflict. On July 11, 1959, he married Berta "Dottie" Roseman LaClair and they lived in Standish, Mich., where he enjoyed raising cattle, the outdoors, playing cards (euchre) and drinking beer. In 1987, he retired from General Motors and they moved to Statesville, where he enjoyed his grandkids and watching them play softball. He was a member of St. Philip the Apostle Catholic Church, was the longest active member of the Knights of Columbus in North Carolina and was a member of the VFW Post 2031. He also served on the Iredell County Burial Detail with his good buddy, Joe Stallings.
In addition to his wife, he is survived by three sons, Duane LaClair (Jean) of Sturgis, Mich., Daniel LaClair (Shondell) of Statesville, and Andrew LaClair (Tracy) of Laurel, Md.; four grandchildren, Karissa, Talon, Aslan, and Joshua; two great grandchildren, Madeline and Benjamin; one sister, Margaret Grier (Jim); and brother, Tom LaClair (Karen).
He was preceded in death by four brothers, Leo LaClair, Ray LaClair, Norman LaClair and John LeClair (Wanda).
Funeral services will be held at 11 a.m. on Wednesday, January 27, 2021, at St. Philip the Apostle Catholic Church with Rev. Father Kessler officiating. Burial will follow in the Bethlehem United Methodist Church Cemetery with military honors.
Memorials may be made to the Gordon Hospice House or St. Philip the Apostle Catholic Church. Online condolences may be made to the family at www.troutmanfuneralhome.com.
Troutman Funeral Home is serving the family.