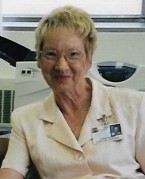 Cora Lee Johnson Fortner, 89, of Statesville N.C., passed away on Friday, November 5, 2021, at Autumn Care.
Mrs. Fortner was born June 10, 1932, in Iredell County and was the daughter of the late Ray Daniel Johnson and Retha Arlene Guy Johnson. She was a graduate of Scotts High School, where she enjoyed playing basketball. She later attended Kings Business College in Charlotte.
Cora later was married to the late Frank Lewis Fortner, who passed away January 13, 2017. She worked for Iredell Memorial Hospital for close to 60 years. She started as a switchboard operator and later worked the majority of her career in the business office. Cora was a member at Monticello United Methodist Church. She loved watching basketball and baseball, especially her favorite teams, UNC Tarheels and the Atlanta Braves. She enjoyed working in her flower garden and sitting on the patio watching the humming birds and listening to her doves.
In addition to her parents, Cora was preceded in death by her husband, Frank Lewis Fortner; and sons-in-law, Buddy Correll and Gregory Foley.
Cora is survived by her two daughters, Sherri Correll and Crystal F. Foley; son, Scotty Lewis Fortner; six grandchildren, Clifton Freeman, Shaun Freeman, Tabatha Moore (Matt), Shad Foley (Kylan), Tyler Foley, and Cross McKinney; and four great grandchildren, Aliyah Freeman, Liam Moore, Logan Moore and Gregory Foley. Also surviving are her siblings, Tommy Johnson (Karol), Betty Ann Cockayne, and Bill Johnson (Bonnie); and her aunt, Hazel Waugh.
A visitation will be held Thursday, November 11, from 1 to 2 p.m. at Troutman Funeral Home. Funeral service will follow at 2 pm with Rev. Kyle Goodman officiating. Burial will take place after the service at Iredell Memorial Gardens.
Memorials can be made to St. Jude's Children's Research Hospital, 2101 Rexford Road, Suite 165W, Charlotte, NC 28211 or Hospice and Palliative Care of Iredell County, 202 Williamson Road, Suite 201, Mooresville, NC 28117.
Troutman Funeral Home is serving the family.