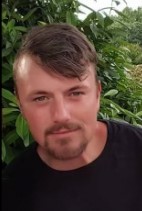 Corey Alan Robinson, 34, of Statesville, N.C., passed away suddenly at home on Thursday, February 25, 2021.
Corey was born on October 24, 1986, in Charleston, W.Va., and is the son of Donald R. Robinson and Donna Welling Robinson Todd. He was a beloved son and father.
In addition to his parents, he is survived by two sisters, Amanda Payne (Eric) of Troutman, and Amy Clontz (Kirk) of Troutman; three daughters, Avalynn Grace, Vivianna Jean, and Everleigh May; one son, Hunter Ray; and grandmother, Elsie May Welling.
He was preceded is death by his grandfather, Charles R. Welling; uncle, Justin Welling; and brother, Donald Charles Robinson.
A visitation will be held at Troutman Funeral Home from 12:30 to 2 p.m. on Tuesday, March 2, 2021, with a service to follow at Troutman Funeral Home Chapel and burial to follow at Iredell Memorial Gardens..
Online condolences can be made to the family at www.troutmanfuneralhome.com.
Troutman Funeral Home is serving the family.