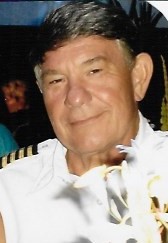 Mr. David Franklin "Buck" Edwards passed peacefully at the Gordon Hospice House on Thursday, February 11, 2021.
He was born to Lloyd Parks and Lacey James Edwards in Troutman, N.C. He considered Troutman his home, although he traveled extensively during his lifetime. He graduated from Troutman High Scholl (Class of 1958) and received a football scholarship to Appalachian State University. He also attended Mitchell Community College for one year before enrolling at East Carolina University, where he earned a Master's Degree in Biology. After graduation, he initially taught at Belvoir-Falkland High School.
Mr. Edwards was a Merchant Marine for 20 years. He owned and captained a tug boat and spent much of his time towing barges in the Caribbean from South Florida to South America. He survived an explosion at sea and spent four days without the aid of any flotation device before being rescued. He was also a certified professional diver and underwater welder. He was part of a team of welders that was critical in the construction of the bridge from Nassau to Paradise Island in the Bahamas as well as the cruise ship docks in Nassau.
His passion for biology and the sciences led him to travel and explore the jungle regions in Venezuela, Panama and Colombia. He was especially proud of a family of red howler monkeys (Napo, Barry, Mia and Bentley) he raised and cared for over 23 years until the last female passed in 2002. He worked with and supported the Animal Shelter Service in Iredell County.
Mr. Edwards bought a historic wooden sailboat built in 1903 by America's foremost designer of sailing vessels, Captain Nathaniel Herreshoff. The sailboat was in need of extensive repairs, and Mr. Edwards dedicated seven years to the disassembly and restoration of "The Margaret" until it was close to its original design. Afterwards, he sailed the Atlantic from Baltimore to the Bahamas.
Mr. Edwards is survived by his wife and traveling companion of 38 years, Sharon (Spoon) Edwards.
The family wishes to thank his medical team and the dedicated group of professional care givers at Hospice and Palliative Care of Iredell County and the Gordon Hospice House.
A memorial service will be held sometime in the future due to COVID-19 concerns.
In lieu of flowers, memorials can be made to Iredell County Animal Services, 430 Bristol Drive, Statesville, NC 28677. Online condolences can be made to the family at www.troutmanfunerlahome.com.
Troutman Funeral Home is serving the family.