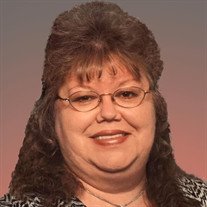 Mrs. Edwanna Coffey Kiser, 65, passed away peacefully into her heavenly home on Monday, March 29, 2021.
Edwanna was born in Harlen County, Ky., on October 6, 1955, to the late Edward Coffey and Kathleen Elliot Coffey. She was a graduate of Iredell County schools, and she was married to George Rhodell Kiser and together they shared many years of marriage before his passing in 2015.
Edwanna was employed with Sara Lee Intimates before the company relocated.
Edwanna was a loving wife, grandmother, and sister. Her strong Christian faith stayed with her throughout her whole life. Edwanna has now gone to her heavenly home to be with her husband George and her son Garett. She will be greatly missed, and her memories will be treasured forever.
In addition to her husband, Edwanna was preceded in death by one son, Garett Kiser.
Left to cherish her memory are her children, Dale Kiser of Harmony, Shana K. Cain (Matt) of Harmony and Jeremy Kiser of Statesville. She is also survived by grandchildren, LaNay Wood (Gary), Eric, Santana, and Tiffany, Chris, Steven, Shelly, Kyla, Kaitlyn, Kelsey, Blake, Jayden, and Jason. Six great-grandchildren, one brother, Skip Coffey, and three sisters, Jo Kiser, Renee Coffey, and Gino Jennings (Sam), also survive.
In order to honor the wishes of Edwanna, there will be no formal services, Kiser but the family will have a life celebration service at a later date.
Nicholson Funeral Home is honored to serve the family of Edwanna Kiser.