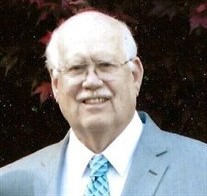 On Monday, March 29, 2021, the patriarch of our family, Mr. George C. Wilson was called home by our Lord and Savior Jesus Christ.
George was born in Monongah, W.Va., in 1938 to the late George R. and Virginia Wilson. He began his service to the U.S. Army before graduating from Bristol High School and received an honorable discharge eight years later. He was a member of the Society of Motion Picture and Television Engineers from his work in the motion picture laboratories.
On May 25, 1968, George made Joanna Bredlau his bride and together they shared 51 years of marriage before her passing in December of 2019. In mid-life, he changed direction and started a career in the rental industry. In 1990 he and Joanna founded the family-run business Events Unlimited in Statesville N.C. George was a member of Holy Trinity Lutheran Church in Statesville before joining Redeemer Lutheran Church LCMS in Catawba, N.C. George served the Lord in many ways. He was a team member with Laborers for Christ, served as an Ambassador for the LCEF, and was a member of the Gideons International until his passing.
In addition to Joanna, George was preceded in death by two brothers, Rodney and Randy Wilson. He is survived by his sister Norma Jean Matthey (Walt) and two brothers, Dale and Charlie (Juanita) Wilson.
By sharing his same faith in God, we, his children; Denise Batdorf (Dave), Heather Krumroy (Dan) and Glenn Wilson and his grandchildren; Lisa Brittain (David), Laura Spencer (Eric), Kenneth and Kyle Batdorf, Holly, Randi, and Elizabeth Krumroy, and Jami Bragg (Chris) and his great-grandchildren; Alexander Krumroy, Lucas and Nathan Brittain, and Christopher Bragg will one day be reunited with him in Heaven.
A service to celebrate his life will be conducted at 2:45 p.m. on Saturday, April 3, at Redeemer Lutheran Church LCMS, 200 S. Main Street, Catawba, NC 28609 with Pastor David Moser officiating. The family will receive friends outside the church from 2 to 2:30 p.m.
In lieu of flowers, memorials may be made to the Gideons International, P.O. Box 148, Statesville, NC 28687. Online condolences can be made to the family at www.nicholsonfunerals.com.
Nicholson Funeral Home is serving the family of George C. Wilson.