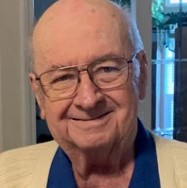 Eugene T. Connolly, 82, of Mooresville, N.C., passed away on Sunday, February 7, 2021, at his residence.
He was born on September 10, 1938, in Brooklyn, N.Y., to the late Eugene and Mary Ann Cummings Connolly.
Mr. Connolly was retired from IBM after 37 years. He enjoyed volunteering at the Mooresville Christian Mission and the Iredell Senior Center in Statesville. He loved woodworking and built things for those in need. Mr. Connolly never met a stranger and was a great provider for his family until his last day. His family will remember him as a loving father, father-in-law, grandfather, and great grandfather.
In addition to his parents, he was preceded in death by his wife, Lois Connolly; and sisters, Kathleen Triglianos and Mary Connolly.
He is survived by his daughters, Jeannie Blish (Tom), and Barbara Evernham (Willie); brother, Jack Connolly; grandchildren, Peter Wilkins, Megan Viola (Anthony), Willy Evernham (Sarah), Katie Benjamin (Dan), Scotty Evernham (Kendall), Eddie Barrett, Taylor Evernham, Ryan Barrett, and Conner Barrett; and great granddaughters, Angel Viola and Harper Honeycutt.
The family will receive friends on Thursday, February 11, from 4 to 5 p.m. with a service following at 5 p.m. at Cavin-Cook Funeral Home Chapel with Rev. Billy Mauldin officiating. A graveside service will be held at 1:00 PM on Friday, February 12 at Mt. Zion Community Cemetery.
In lieu of flowers, memorials may be made to the Iredell Senior Center, 344 East Front Street, Statesville, NC 28677 or Mooresville Christian Mission, P.O. Box 62, Mooresville, NC 28115.
Cavin-Cook Funeral Home & Crematory, Mooresville, is serving the Connolly family. Condolences may be made to the family at www.cavin-cook.com.