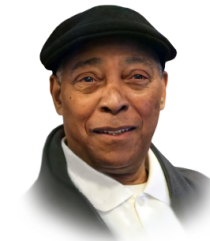 Frank Eugene McCall was born January 30, 1947, in Statesville, N.C., to Marjorie and Clarence McCall Sr. He was the third of eight children. After graduating from Ferndale High School, Frank joined the United States Air Force. When he was on leave from his station in North Africa, he traveled the world with his childhood sweetheart, Frenchie, whom he married in 1967. Frank built a remarkable life of 51 years with Frenchie, which included his role as dedicated father to their two beloved daughters, Brandee born in 1971, followed nearly five years later by Jessica in 1976. Frank enjoyed a successful career of 30 years at Michigan Bell, from where he retired in 2000. Frenchie passed away in 2018, and upon Frank's passing on December 9, 2021, he was reunited with her, as he longed to be.
In recent years, Frank spoke about his path to the Detroit area's Royal Oak Township, which began with the death of his mother at the age of 10, followed by separation from his father and siblings, as he alone was sent to live in Michigan while they, Frank believed, remained in his hometown. A misunderstanding that he carried with him most of his life until, as an adult, he learned all of his brothers and sisters were separated following his mother's death, but later reunited as teenagers. While Frank was a stoic man, he shared aspects of these traumatic losses and the ways in which his difficult upbringing by Eutha and Jonas Graves denied him a real childhood. Never complaining, Frank expressed simply that he did not understand why he was sent to live in Michigan, but his deep love of the family he built, beginning with Frenchie, brought him acceptance of the journey.
Steadfast in his roles as family and career man, Frank was loving and supportive with his wife and girls. He was unfailing and positive in spirit as he supported Frenchie through her lifelong battles with rheumatoid arthritis. He was Frenchie's biggest champion as she returned to school and rejoined the workforce after nearly 30 years of marriage. He celebrated (and sometimes cringed or hollered) as he taught Brandee to ride a bike and later to drive a car. And with Frenchie often in the hospital, he made sure to attend Jessica's games and school plays, always eagerly compensating for the things his wife's illness would not allow them to control. He was present in all ways he knew how, out of a deep and abiding love for his role as their father. Frank was the fun dad, taking his girls on road trips to Disney World and North Carolina, and even a rap concert or two. He was always quick with a story that would have his nieces and nephews doubled over in laughter. Frank was known, also, for his fixed moral compass. Though he preached to his girls the importance of doing the right thing, it was the unwavering example of his integrity that rang most loud and true.
Frank's sense of loyalty extended to his siblings, with whom he reunited, and the friends he made easily over the course of his life. The McCall home was the center of many spirited events and holiday gatherings hosted by Frank and Frenchie; and Frank was known for his quick wit and playful nature. As a complement to his sense of duty to loved ones, Frank loved good fun, and brought joy as often as he could to whomever he could.
Frank's heart for people will live on in his two daughters, Brandee and Jessica; granddaughters Chandler, Courtnee and Coryn; and his great grandson Ezekiel, whom he adored. He is survived also by siblings, Cathy (Michael), Christopher "Skip" (Candy), Hope (Christopher), Lisa and Ronald, as well as his beloved sister-in-law Ruby, and brothers-in-law Marvin Sr. (Johnnie), Rev. Richard (Carolyn) and Standish Jr. (Harry Ann). Frank is also survived by a host of nieces, nephews and cousins, as well as extended family and dear friends. Frank was preceded in death by his parents; brothers Harvey Lee and Clarence Jr.; his in-laws, a niece, two nephews, and his wife, Frenchie.
To anyone who knew him, Frank was the beating heart — constant and a symbol of love.
Services for Frank McCall will be held at Hartford Memorial Baptist Church, 18700 James Couzens Highway, Detroit, 48235.
on Thursday, December 16, 2021, at 11 a.m. Members of the family will receive friends from 10:30 a.m. until 11 a.m.
This Service will be livestream: hmbcdetroit.org YouTube – search "Hartford Live."
Rutledge & Bigham Funeral Home is serving the family.