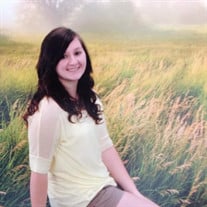 Jewel Alaina Mueller, 24, formerly of Statesville, N.C., died December 4, 2021. She was born June 11, 1997, in Catawba County, N.C.
Survivors include her mother, Karen Sue Hugh Mueller; father, Douglas Brian Mueller, brothers, Cash Greene, Mathew Mueller and Christopher Mueller; sisters, Justice White (Kyle), and Elizabeth and Danielle Mueller; along with her foster mother, Judy Williams.
Memorial services will be held at 4 p.m. on Friday, December 10, at Nicholson Funeral Home with Rev. Jamie Fox officiating. The family will greet friends following the service.
You may watch the service live at https://view.oneroomstreaming.com/authorise.php?k=1639102873153029
Condolences may be sent online to the family to www.nicholsonfunerals.com. Memorials may be given to the church or charity of the donor's choice.
Nicholson Funeral Home is entrusted with the arrangements.