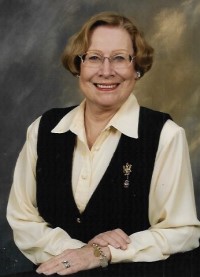 Julia Craig Johnson Holland, 80, of Statesville, N.C., died May 21, 2021.
Julia was born on April 3, 1941, to the late Frank T. Johnson and the late Frances Frye Johnson. After graduating from Statesville Senior High in 1959, she began her career as a homemaker and helped support her husband while he was in college. After her children left home, she worked as a preschool teacher at Trinity Episcopal Church until her retirement in 2001.
She was a charter member of the local Stagefront Theater, performing in and directing numerous plays and musicals, including "Anything Goes" and "1776." She enjoyed watching Broadway productions like "Les Misérables" and "Rent," as well as classic movies and "I Love Lucy." She liked reading Mary Higgins Clark and was a word search puzzle enthusiast. Her red 1993 Ford Mustang convertible was a beloved possession.
Julia is survived by her high school sweetheart and husband of 62 years, Bill Holland; three children: Rusty Holland (Tammi) of Greensboro, Liz (Sissy) Bodrie (Mike) of Statesville, and Josh Holland (Laura) of Statesville; and eight grandchildren, Katherine Bodrie (Ryan) of Winston-Salem, Michele Bodrie (Paul) of Longmont, Colo., Sam Holland of St. Petersburg, Fla., Sarah Holland of San Antonio, Texas, and Natalie, Seth, Kyle, and Lena Holland of Statesville. Also surviving is her brother, F. Taylor Johnson Jr., of Charlotte.
A memorial service will be held on Tuesday, May 25, at 11 a.m. at Oakwood Cemetery in Statesville. The family will visit with friends after the service.
In lieu of flowers, memorial donations may be made to Trinity Episcopal Church, Memorial Fund, P.O. Box 1003, Statesville, NC 28677.
Troutman Funeral Home is serving the family.