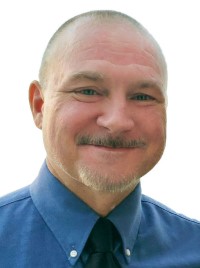 Larry Max Cooke Jr., beloved husband, son, brother, uncle, cousin, and friend, passed away surrounded by his family on November 10, 2021, at the age of 52.
Larry was born on August 25, 1969, in Iredell County to Larry Cooke Sr. and Judy Brown Cooke, and lived his whole life in Mooresville. He served his country as a member of the Army National Guard. On May 5, 2012, he married the love of his life, Shannon Bell Cooke, and together they made a beautiful home overlooking Lake Norman where they lived with their much-loved rottweilers, Sebastian and Lexie.
Larry, a huge Tarheels fan, earned his MBA from the University of North Carolina-Chapel Hill while working full time for Ingersall-Rand, attending school on the weekends. Larry was also an accomplished handyman and completed many renovations on his home with Shannon. An avid Carolina Panthers fan, Larry shared season tickets and loved attending games with his younger brother Chad Cooke. With Shannon and friends, Larry enjoyed hiking, traveling, and visiting wineries. He also mastered the art of the perfect cheesecake.
Those who will miss Larry are too great to list; however, please hold in your hearts the following whom survive him: his beloved wife, Shannon; parents, Judy and Larry Sr.; brother, Chad; sister-in-law, Bridget Bell; mother- and father-in-law, Elaine and Dan Bell; aunts and uncles, Vichard and Carol Cooke, and Leslie and Barbara Cooke; niece and goddaughter, Ava Cooke; niece, Evelyn Valle; nephews, Max Cooke and Sean Valle; numerous cousins, and countless friends.
A memorial service honoring Larry will be held on Sunday, November 14, at 3:30 p.m. at Cavin-Cook Funeral Home, 494 E. Plaza Drive, Mooresville, N.C. The family invites attendees to stay after the service to share memories and condolences. Because there are vulnerable members in our family, we ask that everyone please wear a mask.
Larry told Shannon that when he passed, he wanted a party, and he didn't want people to be sad. While not being sad is impossible, we plan to honor his wish in the future with a party to celebrate his life.
In lieu of flowers, donations can be made to Rottweiler Hearts Rescue of Clayton, N.C.; the Wounded Warrior Project, or The Lake Norman Wildlife Conservationists.
Cavin-Cook Funeral Home and Crematory, Mooresville, is serving the Cooke family. Condolences may be sent to the family at www.cavin-cook.com .