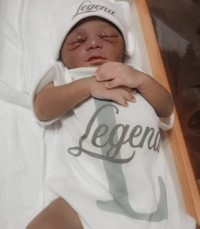 Legend Ta'rell Dukes, infant son of Mark Londel Seabrook-Dukes and Sokoya Euniqua Mock, was still-born in Iredell County, N.C., on August 8, 2021.
In addition to his mother, Sokoya Euniqua Mock, and his father, Mark Londel Seabrook-Dukes, he leaves to cherish the memory of his life his siblings, Jaelynn Dukes, Marquis Parker Jr., Ahmire Dukes, Makhai Dukes, Tariq Dukes, Rajhan Dukes, MarQuae' Dukes, Sama'ria Parker, Jasmea Ikard and Kamiya Peet; his godmother, Kenisha (Decario) Phifer of Statesville; his grand-godmother, Lori Snyre of Statesville; his grandparents, Johnsiner Mock of Charlotte, Renzel Rhren of Statesville and Trenise (Shandor) Patterson of New York; his aunts, Renniqua Rhenn, Khadeja (Charles) Summers, Zion Mock, Keniya Miller, Nykel Dukes, Zerel Patterson, Kyzel Patterson, Ke'Trell Mock, Skylar Moss, Imani Moss and Fenere Smith; a host of cousins and other relatives.
The family will be having a balloon release on Sunday, August 15, 2021, at 104 Imes Court, Statesville, NC 28625.
Rutledge and Bigham Funeral Home is serving the Dukes Family.