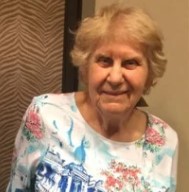 Mildred Blaustein Dittrich, 93, of Mooresville, N.C., passed away on Wednesday, January 27, 2021, at Lake Norman Regional Medical Center. She was born on January 22, 1928, in Bronx, N.Y., to Charles and Mary Rappaport Blaustein.
Mrs. Dittrich enjoyed the music of Frank Sinatra and Barbara Streisand and could always be found humming or singing a song from her heart. Mrs. Dittrich found solace and splendor in the theatre, with a lifelong love of Broadway musicals and the Golden Age of Hollywood. She loved nature and animals, especially birds and cats. She married the love of her life, John, on July 18, 1951, and was a devoted wife. Together they were an inseparable pair. They traveled the world and took their family on many intrepid trips across the country. Mrs. Dittrich was a people person and never met a stranger. She was very spiritual. She was also interested in nutrition and lived a very healthy lifestyle. Mildred lived a life full of goodwill. She was a strong woman and persevered through the losses in her life with grace. She rejoins her beloved husband for their next great adventure.
In addition to her parents, she was preceded in death by her husband, John Anthony Dittrich; and sisters, Caroline Cooper, Charlotte Cassidy, and Lillian Greenwald.
She is survived by her children, Charles Dittrich and wife Barbara, and Marilyn Kirsch and husband Leonard; grandchildren, Andy and Larisa Dittrich, and Jenny Van Beck and husband, Peter and their children, Jacob and Lila, Michael Kirsch, and Jason Kirsch; and niece, Sonia Sloane.
No public services are planned at this time.
In lieu of flowers, memorials may be made to FeedNC, PO Box 5173, Mooresville, NC 28117 https://secure.lglforms.com/form_engine/s/6bvUjeS73ssMTK7Izb5-Tg or Lake Norman Humane, PO Box 3937, Mooresville, NC 28117 https://www.paypal.com/donate/?token=lkobaOxKAu9XQGftP0W08KWqtRNBjThHfi5Xxu4d4caS5Vxy206SztQ0EbzIGu0RGUji7i0Au_ZCfL4z&Z3JncnB0=
Cavin-Cook Funeral Home & Crematory, Mooresville, is serving the family of Mrs. Dittrich. Condolences may be made to the family at www.cavin-cook.com.