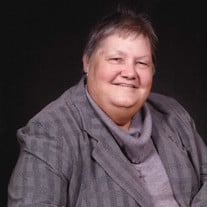 Sharon Kaye Chambers, 77, passed away on Thursday, July 8, 2021, in Mooresville, N.C. She was born on June 12, 1944, in Visalia, Calif., and was preceded in death by her parents and one brother, John M. Rocha.
As a young woman, Sharon began losing her eyesight to a progressive disease. After moving to Virginia in 1970, she attended the Virginia School for the Deaf and Blind, where she learned Braille and mobility. After moving to North Carolina, Sharon became a congregation member of the Rocky Mount Methodist Church in Mooresville and was active in the church.
Sharon had a very generous heart and was always willing to help others, whether they were disabled or simply in need of a kind word or encouragement. She received numerous awards for her volunteer work and service to others over the years — something she was immensely proud of. Sharon was extremely loyal to her friends and family, and never held back when it came to loving or giving to others. She faced many difficult obstacles in her life and met them all with courage, grace, and dignity. Sharon will be missed greatly by her friends and family who will always remember her loving and generous spirit.
Sharon is survived by her former spouse, John Q. Chambers of Conway, S.C.; her son, Timothy J. Chambers (Shelley) of Mooresville; and her brother, James T. Rocha (Carol) of Santa Fe, N.M. as well as extended family living in California and Texas.
The family will receive friends on Thursday, July 15, from 5 to 7 p.m. at Cavin-Cook Funeral Home. Services will be held at 11 a.m. on Friday, July 16 at Rocky Mount United Methodist Church in Mooresville with a private family burial to follow.
For those who are unable to attend the church service, you may go to the following link for the live stream https://youtu.be/b3FjSX41Rzw This stream is set to go live at 10:50 a.m. on Friday, July 16.
To honor Sharon, the family asks that in lieu of flowers, donations be sent to the Metrolina Association for the Blind, 704 Louise Avenue, Charlotte, NC 28204.
Cavin-Cook Funeral Home, Mooresville, is serving the Chambers family. Condolences may be made to the family at www.cavin-cook.com.