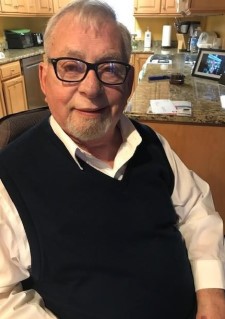 William A. "Billy" Johns, 74, passed away peacefully at his home in Statesville, N.C., on January 26, 2021. He was the loving husband of Luz Elena Johns.
Born in Cleveland, Ohio, Billy was the son of Virginia Belle Poynter and Herbert Johns. He was a veteran who loved his country. He retired after many years of service at MetroNorth Railroad in New Haven, Conn.
Billy was a likeable guy who would give the shirt off his back to anyone in need. He was funny, sarcastic, and a social butterfly – he always had a joke or story to tell. He had a zest for life (go-kart & car racing, cross-country rides on his Honda Goldwing) in his day before falling ill several years ago. He was a tough ol' bird who fought the hard fight!
He is survived by his spouse Luz and her mother, Cenaida Rodriguez; daughters DeAnna and husband Guy Drapeau of Rocky Hill, Conn., and Donna Rich of Wethersfield, Conn.; son William R. and wife Ruth Johns of Indianapolis, Ind.; grandchildren, Jackson, Ryleigh, Elizabeth, Mark, Seth, Gracie and Mariah; sisters Nancy, Susie and Cyndi and their families; and his beloved dogs, Jasper and Sammy.
He was predeceased by his parents; brother, Charlie; son Brian; and grandson, Matthew.
Memorial services will be scheduled at a later date due to COVID-19.
In lieu of flowers, donations may be made in his honor to the American Heart Association and/or Trinity Episcopal Church in Statesville, N.C.
Condolences may be left for the family, online at http://www.bunchjohnsonfuneralhome.com.
Bunch-Johnson Funeral Home is honored to be entrusted with the care of Mr. Johns and his family.