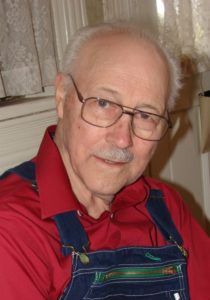 Abram Arthur Prevette, 87, of Statesville, N.C., passed away on June 17, 2022, at Gordon Hospice House. He was born September 10, 1934, on his father's 50th birthday in Wilkes County, N.C., to Elzenia Baity Prevette and Perry Mansfield Prevette Sr.
A graduate of Wilkes Central High School's first graduating class in 1953, Abe was best known for his beautiful rich singing voice, primarily baritone and lead, although he made several recordings in which he sang all four parts of a quartet. He sang with many different quartet groups, most notably the Piedmont Quartet. Like his father before him, Abram taught shape note singing schools at many churches in Wilkes and Iredell Counties. He was the choir director at New Prospect Baptist Church for 53½ years. Also a gospel music composer, Abe wrote over 500 songs, of which more than 50 have been published. Abe was known for singing from his heart, touching many lives. He served many families through music for funerals, weddings, and other special events.
Abram worked at Southern Screw Company for 20 years, then worked at Clark Equipment Company/Ingersoll Rand/Doosan for 18 years as a machinist.
In 1961, he married Evelyn Sprinkle Prevette, who survives. They raised three children, Linda Prevette Call (David, deceased), David Arthur Prevette (Angie), and Daniel Lynn Prevette (Julia). He is also survived by five grandchildren, Jed Cockrell (Jenny), Laura Bonifacio (Alberto), Artie Prevette (Melissa), Casey Prevette (Amanda), and Cody Call; as well as seven great grandchildren, Mallory Cockrell, Knox and Nash Prevette, and Emilio, Sebastian, Sophia, and Rizal Bonifacio. He is also survived by two siblings, Lawrence Prevette of Jonesville and Annie Mae Morrow of Statesville.
Abram was preceded in death by his first wife, DeLois Holland Prevette; and by five siblings, Hazel Pardue, Ever Pardue, Electa Shumaker, Ruby Moore, and Perry Mansfield Prevette Jr.
A celebration of life service will be held on Monday, June 20, at Mount Pisgah Baptist Church. The family will receive friends from 2 to 3:30 p.m. with a funeral at 4 p.m. and graveside to follow.
Flowers are accepted or donations may be made to Gordon Hospice House or to Mount Pisgah Baptist Church, 11635 Statesville Road, North Wilkesboro, NC 28659.
Bunch-Johnson Funeral Home is honored to be serving the Prevette family.