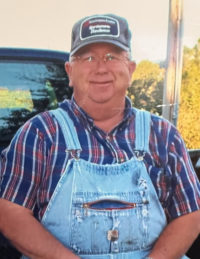 James Wayne Mayes, 76, went to be with his Savior after passing peacefully at home surrounded by his family on December 14, 2022, after a long, heart-breaking period of physical and mental decline inflicted by dementia.
Wayne was born on August 25, 1946, in Statesville, N.C., to the late Lessie Fox Mayes and William Elmer Mayes. He graduated from Cool Spring School in 1964. After graduation, he served his country for four years in the United States Air Force. On September 26, 1969, he married the love of his life, Joyce Johnson Mayes, who survives. Wayne retired from Piedmont Stone Center as a lithotripsy truck driver in addition to being a lifelong farmer.
Wayne was a faithful member of New Salem United Methodist Church, where he served the Lord as a Youth Leader alongside his wife for five years. He also served on mission trips to Haiti and Mississippi. He enjoyed spending time with family and watching his grandkids play sports. He loved to work in his garden and help others in the community; it was never work when a tractor was involved. His true passion was farming, whether it was working with cows, chickens, or in the hay field. He was the recipient of the "Outstanding Young Farmer" award in 1979 presented by Statesville Jaycees. He was a volunteer fireman at Cool Spring Volunteer Fire Department in his younger days as well.
Along with his parents, Wayne was preceded in death by his daughter, Joy Silber; son-in-law, Chaz Silber; and brother-in-law, Charles Carter.
In addition to his wife Joyce, he is survived by three children Jenny Cline (Chris), Jimmy Mayes (Crystal), and Jill Mayes (Stephen McHenry). He had eight precious grandchildren, Owen Silber, Abi Richardson, Rileigh Silber, Garrett Mayes, Kamden Hinson, Paisley Cline, Raelynn Mayes, and Austin Hinson; and his fur baby Jack. He is further survived by his sister Lucille Mayes Carter.
Mr. Mayes celebration of life will be held Sunday, December 18, at 2 p.m. at New Salem Methodist Church with burial to follow. The family will have visitation on Saturday, December 17, from 4 to 6 p.m. in the sanctuary of New Salem Church, located at 155 New Salem Road, Statesville, N.C.
The family would like to extend their thanks to the caregivers of Home Instead and Hospice of Iredell County for their care of Wayne.
Troutman Funeral Home is serving the family.