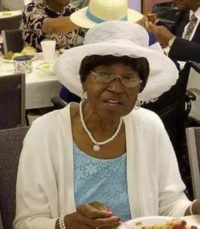 Mrs. Alma Jean Rankin Ivery, 86, daughter of the late Joe and Della Mae Wilson Rankin, was born in Rowan County, N.C., on July 22, 1935. She departed this life unexpectedly on Thursday, May 19, 2022, at Davis Regional Medical Center in Statesville, N.C.
Mrs. Ivery was a machine operator for Hoechst Celanese for many years before retiring in 1996. She was educated in the Iredell/Rowan County public schools and was a faithful member of Antioch Missionary Baptist Church in Cleveland, N.C. She was affectionately known as "Sunshine" by her church family. As a young child, she attended the family home church Mt. Tabor Presbyterian Church, USA of Cleveland, N.C.
She was preceded in death by her parents; four brothers, James (Jake) Rankin, Otha Rankin, Joe "Dewitt" Rankin, and Onzillo (Wren) Rankin; six sisters, Lillie Jane Allison, Hallie Rankin Torrence, Dorothy Rankin McNeely, Barbara Rankin Fleming, Gladys Rankin, and Ada Lou Rankin; two sons, Infant Milton Ivery and Bernard Eugene Ivery; and two great-granddaughters, Nakia Imes and Lovely Ann Imes.
Alma leaves to cherish the memory of her life at AJI compound one son, Corey (Angie) Ivery of Statesville; three daughters, Dianne Rankin Sanders of the home, Shirley Ivery Black of Mooresville, and Delois Jean (James) Reddick of Cleveland; one sister-in-law, Ruth R. Rankin of Statesville; one nephew, John Wesly (Loretta) Rankin of Salisbury; one niece, Annie Mae Rankin Sheely of Kannapolis, raised in the home with Alma Ivery; a beloved pet, Izak Ivery of the home; special family friend, Vinson Y. Smith of Statesville; nine grandchildren, Sedettra (William) Rankin Bowen of Brown's Summit, Dwight Sloan Jr. of High Point, Chamekia (Jonathan Sr.) Sloan Spencer of Charlotte, Shandra (Darren) Ivery Tyus of Portsmouth, Va., Cedarian Reddick of the home, Keshawn (Talisa) Imes, Adrian Wilson, Devon Wilson (Jalisha) of Statesville, Cavin (special grand) Caldwell of Troutman; seventeen great grandchildren, Demetrius Sloan, Tashon Brandon, Ivery Sloan, Sydney Bowen, Nazarie Imes, Camden Sloan, Jonathan Spencer Jr., Nia Spencer, Arry'anna Tyus, Zikera Imes, Keshawn Ivery Jr., Khaidyn Imes, Keshawana Imes, Dhynasti Ramseur, Jahzeir Wilson, Alana Wilson, and Kinleigh Wilson; and a host other relatives, friends and her Antioch Missionary Baptist Church family.
Celebration of Life Services will be conducted Thursday, May 26, 2022, at 2 p.m. at Rutledge and Bigham Funeral Home. Members of the family will receive friends at the Funeral Home from 1:30 to 2 p.m. Reverend Maurice Lackey will officiate and Reverend David Leaven will deliver the eulogy, and burial will follow in Antioch Missionary Baptist Church Cemetery.
Visit the Book of Memories for Mrs. Ivery at www.rutledgeandbigham.com.
Rutledge and Bigham Funeral Home is serving the Ivery family.