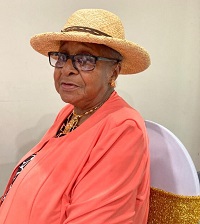 Bernice Reid Femister, affectionately known as "mother of many," was born on March 31, 1930, to the late John Scott and Frances R. Reid. She departed her earthly life on Tuesday December 6, 2022, at Iredell Memorial Hospital in Statesville, N.C., surrounded by her family.
Bernice received her education from the public schools in Iredell County. She joined Wesley AME Zion Church at an early age and remained a member until her death. During her lifetime, she loved cooking for family and friends, gardening, attending her senior citizens events (55 and Alive Club) and listening to gospel music.
Bernice was preceded in death by her husband of 72 years, Francis Odell Femister Sr.; two brothers, Ivey Reid and Tommy Reid; and one sister, Jeaneatte Muskelly.
She leaves to cherish the memory of her life a beloved sister, Frances Gail Witt of Pennsylvania; her children, Tarnell (Tony) Lazenby of Stony Point, Francis (Alice) Feimster Jr. of Charlotte, Gwendolyn (Colbert) Spain of Troutman, Cassandra F. Ramsey of the home, Shelia (James-deceased) Fleming of Charlotte, Henry L. Femister of the home, Thomas R. Femister of Washington, D.C., and Michelle (Stanley) Bailey of Salisbury; 16 grandchildren, 16 great grandchildren, and five great-great grandchildren. In addition, she lis survived by her children-in-love, Kendra Smyre, Rozolene Feimster, Jannifer, Nicole, Audry Barnes, Rhona Vaga, and Tonya Young, the Fleming family, and a host of nieces, nephews, cousins, and other relatives and friends.
A special thanks to our Griffin family, Alice Bozenbry, Peggy Hagood, and Theresa Lail for all the love, care and continuously supporting our family. The family of the late Bernice Reid Femister would like to thank you for your heartfelt condolences and honoring our beloved mother, sister, and grandmother. Gone from our sight, but never from our hearts. A precious one from us is gone. A voice we loved is still. A place is vacant in our hearts which never can be filled. It hurts us to lose you. But you did not go alone. A part of us went with you the day God called you home. Sleep on dear one, and take you needed rest. You know how much we loved you. But God loved you best.
A Celebration of life service will be conducted Thursday, December 15, 2022, at Christian Outreach of the Piedmont Inc. at 12:30 p.m. The body will lie in state for 30 minutes prior to the visitation time. The family will receive friends from 11:30 to 12:30 p.m. at the church.
Visit the Book of Memories for Mrs. Feimster at www.rutledgeandbigham.com.
Rutledge and Bigham Funeral Home is serving the Feimster family.