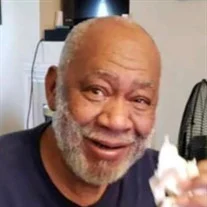 Thomas Edward Blackmon, 71, departed this earthly life December 5, 2022 at his home. Sneaky/Redman, as he was affectionately called, was born May 1, 1951, to the late Mr. John Niblock and the late Mrs. Margaret Blackmon Johnson .
Tommy received his education at R.A. Clement High School in Cleveland, N.C. He retired from National Realtor in Upper Darby Pa.
During his retirement, he enjoyed sports, especially football, and he was a die-hard Philadelphia Eagles fan. He loved playing cards and watching Western movies, but most of all he had a great sense of humor and enjoyed life. His favorite line was: "I do not let anyone still my joy."
In addition to his parents, he was is preceded in death by his stepfather, Roland M.Johnson; his three brothers, Charles Bernard Johnson, Kenneth Johnson and Scottice Ray Blackmon; grandson, Keyshawn Glaspy-Norman; great granddaughter, Jamaree Shaney Brown; bonus sister, Maria Spaulding Dixon; and uncle, William A. Niblock.
He leaves to cherish the fond memories of his life his Daughter, Erica Glaspy, granddaughters, Tanya Brown and Tanyeisha Glaspy, all of Troutman, N.C.; great grandson, Amari Simpson; and great granddaughter, Disiya; brothers, Lawrence Johnson of Philadelphia Pa.; bonus brother, Frednice (Freddie) Spaulding of Philadelphia Pa.; sisters, Debbie Johnson and Joyce Johnson Mitchell, both of Statesville, N.C; bonus sister, Patricia Diana Moriniere of Concord, N.C., three aunts, Vina Mae (Robert) Knox of Cleveland, N.C., Laura Spaulding of Philadelphia, Pa., and Ola Mae Buttons Niblock of Columbia S.C.; brother-in-law, Dennis Mitchell of Shelby, N.C.; special niece, Jerri Holder, and special nephews, Justin and Marcus Johnson of Statesville, N.C., Lawrence (Shahiedah) Stover; special friends Sammy and Sheila Cowan, James Jenkins (aka Traveling Man), and Curley Kerns. A host of nieces, nephews, cousins, others relatives, neighbors and friends also survive.
Rutledge and Bigham Funeral Home is serving the family.