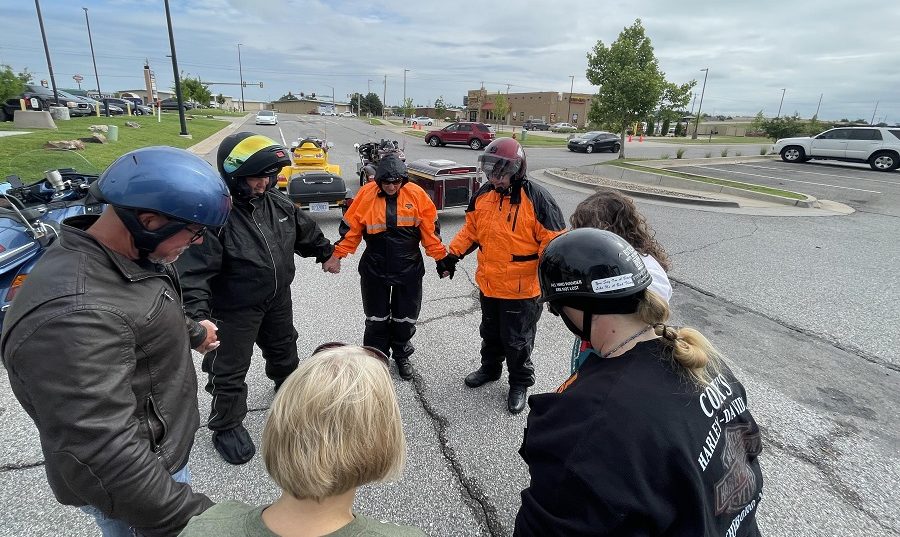 BY MIKE FUHRMAN
The Precious Medals group gathered in a prayer circle outside the Sleep Inn in Yukon, Oklahoma, on Friday before continuing their eight-day journey from North Carolina to California.
Crystal Harris, a retired Iredell-Statesville Schools teacher who is one of five motorcycle riders traveling more than 2,400 miles to deliver the military service medals to the family of World War II soldier, led the prayer, asking God to protect the participants as well as military personnel and veterans throughout the nation.
Day four of the trip to deliver Coy William Goins' medals to his great-niece began when the caravan of motorcycles and an RV support vehicle left Yukon for Amarillo, Texas, around 8:30 a.m.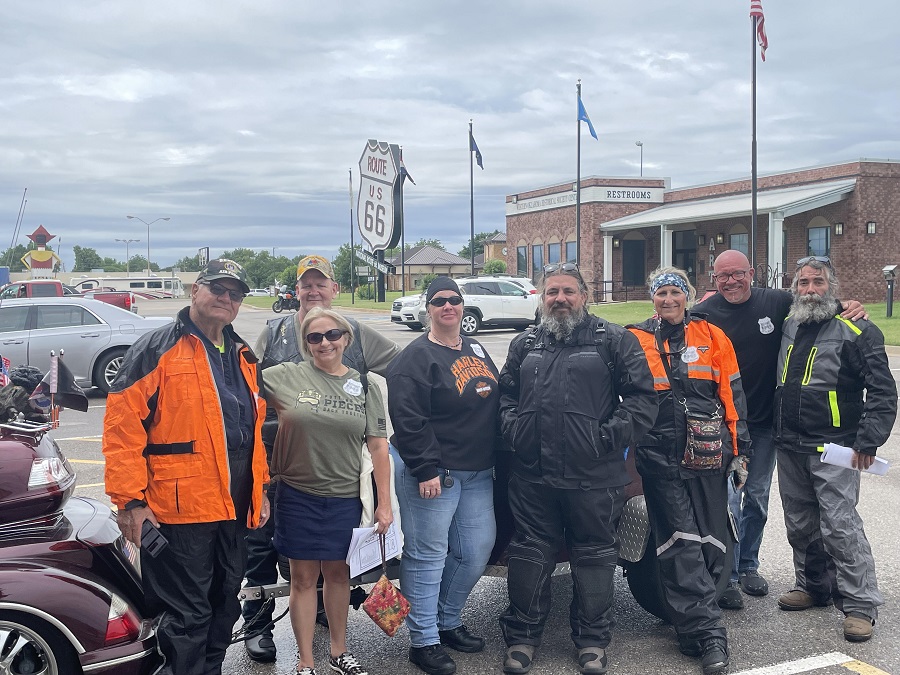 About two hours later, during a planned stop at the Route 66 Museum in Elk City, Oklahoma, they encountered two veterans who are attempting a cross-country journey of their own by motorcycle.
Greg Bellucci, who retired from the Marines after 23 years of service, and Joshua Bujanda who medically retired from the Army after 17 years, are traveling from West Virginia to Oregon along the Transamerica Trail. The adventure involves mostly travel on dirt roads and paths. The veterans are camping along the way.
Bellucci and Bujanda, both of whom are Purple Heart recipients, visited with the Precious Medals team to learn about Sgt. Goins and thanked the group for their efforts to ensure the World War II veteran's legacy lives on with his family.
The day's travels, which included a minor delay caused by electrical issues on one of the motorcycles, ended with another meal at the Cracker Barrel in Amarillo. Dave Hughes, a retired MP in the U.S. Army and one of the veterans making the trip, posed for a photo with a youngster who thanked him for his service.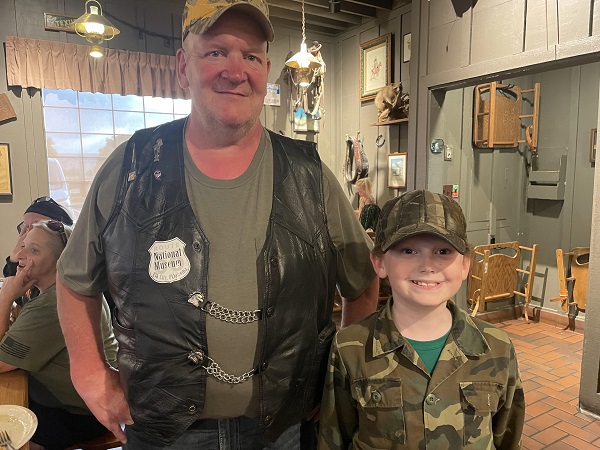 Day 5: From Amarillo, Texas, to Winslow, Arizona
A gray sky greeted the Precious Medals group as they stepped into the parking lot of the Ashmore Inn in Amarillo, Texas, on Friday morning. After getting drenched by a downpour on Wednesday, that was the last thing the five motorcycle riders wanted to see.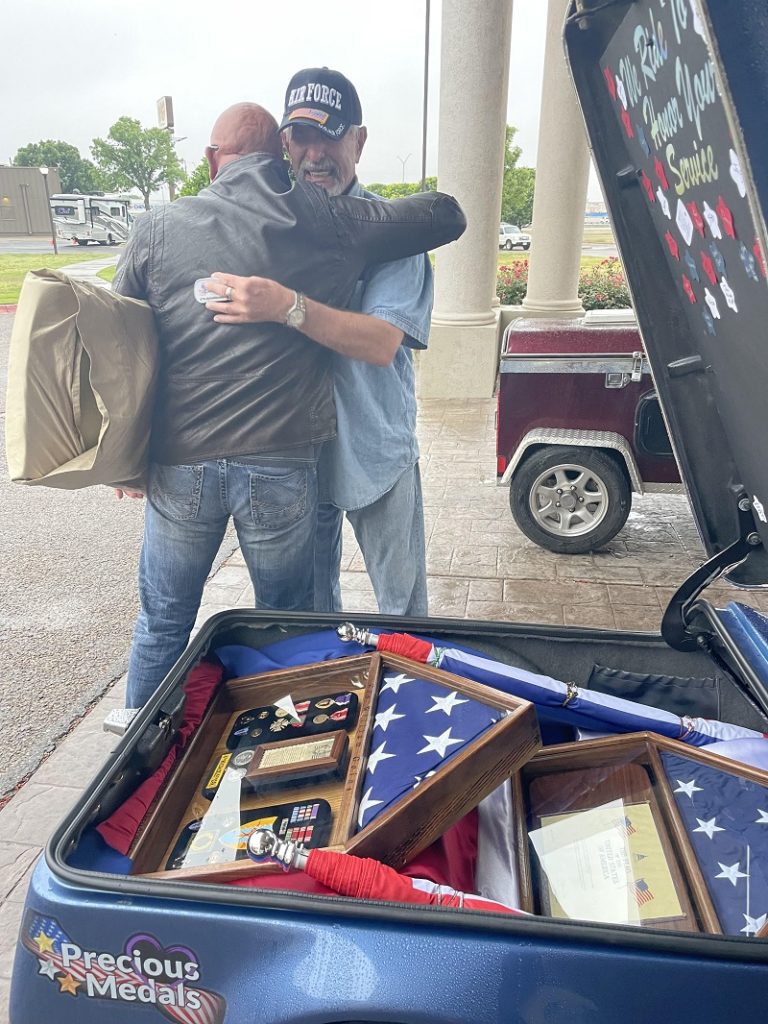 That's when William Vance, an Air Force retiree from McKinney, Texas, stepped under the canopy to have a look at the cargo in Roger Siegrist's motorcycle trailer. Now in his 80s, Vance is still a solid guy with a strong handshake. In addition to his military service, he has a few film credits to his name. He's mostly played a cop in tough guy movies, and he looks like he can still take care of himself if the need arises.
But Vance, who served as a missile guidance mechanic in Germany "and loved it," turned to mush when Roger Siegrist popped the lid on his trailer and showed him the handmade case holding World War II veteran Coy William Goins' service medals.
Representatives of Precious Medals are transporting Sgt. Goins' long-lost medals to his great-niece in Los Angeles. The trip was planned after relatives who live on the East Coast said they did not want Goins' medals because of substance abuse and behavioral issues that dogged him after he returned home from war.
Kim and Roger Siegrist, co-founders of Precious Medals, started trying to track down Sgt. Goins' relatives after Kim found the medals for sale in an antique store and bought them in order to return them to his family.
Vance was so moved by Goins' distinguished service record — he was awarded two Purple Hearts and two Silver Stars for eight tours of duty during the war — and the planning and effort that has gone into the 2,400-mile journey that he started crying and had difficulty finding words to express himself.
"I always honor my friends who served," Vance said. "I have friends that served in Vietnam that were much braver than me. I honor the guys who have served."
"That's why we're doing this," Roger Siegrist told him.
After a few photos, handshakes and hugs, the Precious Medals group hit the road.
It was another long day on the interstate, but most of the team was in good spirits when they pulled into the Quality Inn in Winslow, Arizona.
There was time for dinner at the Relic Road Brewing Co. and even a few snapshots on one of the most famous street corners in the world.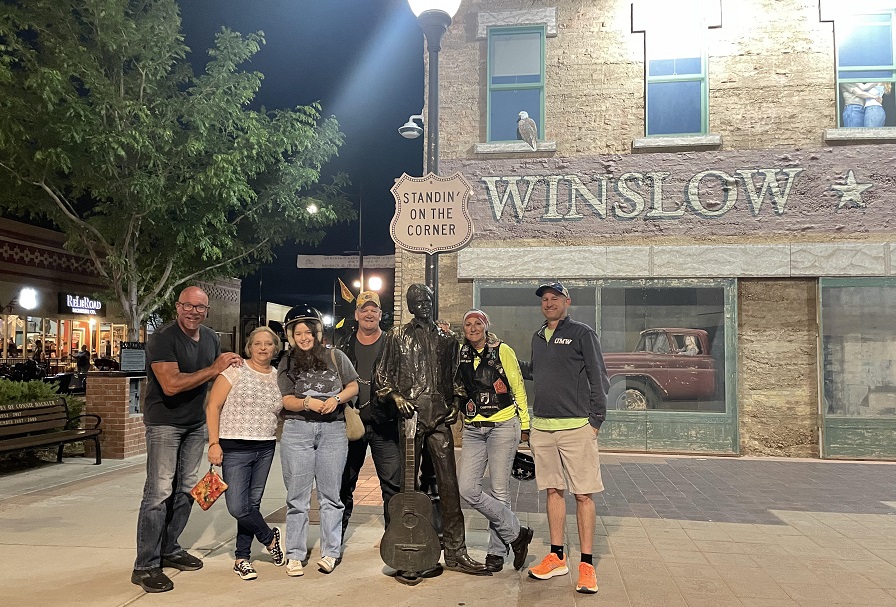 Support this Mission
You can help fund this journey and support the work of Precious Medals and Purple Heart Homes, by making a contribution HERE.

Related Stories
♦ MAY 20: A Journey to Remember: Precious Medals, Purple Heart Homes collaborating on mission to deliver service medals to relatives of World War II veteran
♦ MAY 30: Photo Gallery: Purple Heart Homes hosts send-off for Precious Medals mission
♦ MAY 31: Precious Medals Journey Day 1: From Statesville to Cookeville, Tennessee
♦ JUNE 2: Precious Medals Journey Day 2 & 3: From Cookeville, Tennessee, to Yukon, Oklahoma