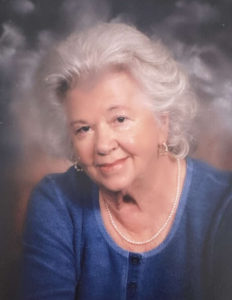 Betty Deal Matthews, better known as "Memaw Betty," passed away peacefully at the age of 90, surrounded by her loving family, on Monday, November 7, 2022.
She will be lovingly remembered by her children, Billy Paul Clippard (Dana) and Shelia Shuford (Tim); grandchildren, Billy Paul Clippard II (Molly), Lynsey Lopez (Eddie), Colton Shuford, Landon Shuford (Hollee), and Payton Shuford (Madison); and great grandson, Archer Shuford.
She was preceded in death by her spouse, Jim Matthews; her parents, Stella Deal and Blake Deal Sr., three brothers and two sisters.
Betty loved to cook, bake, and garden. Every Sunday morning her family gathered for breakfast made from scratch. All visitors were treated like part of the family.
As a single mother, Betty left an indelible mark on her two children. Working two jobs for 30 years, and she taught them life lessons in strength, perseverance, and independence. Money was tight at times, but her children never knew it; she sacrificed much for her family. She was smart, strong, and caring. She was a survivor. Simply put, she was amazing!
A visitation will be held at Troutman Funeral Home of Friday, November 11, from 2 to 4 p.m. The immediate family will gather at Beulah Baptist Cemetery for a final farewell.
Troutman Funeral Home is serving the family.