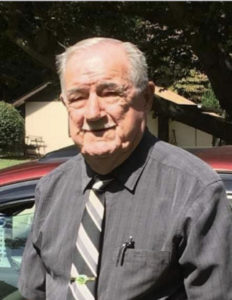 Billy Leonard Josey, 86, of Troutman, N.C., passed away on Wednesday, November 9, 2022, at his home.
Billy was born on July 18, 1936, in Iredell County, N.C., to the late Avery L. Josey and Beulah Hayes Josey. He proudly served in the U.S. Navy.
In addition to his parents, Billy was preceded in death by his wife, Patricia Breashears Josey; brother, Jim Josey; sister, Brenda Rodgers; daughters, Karen Josey and Wendy Kay Josey; and granddaughter, Sarah Allen.
Mr. Josey is survived by his daughter, Cindy Absher; grandchildren, Tracy Lopez, Erin Vandyke, Justin Pierce, Denny Wilson, Daniel Wilson and Jennifer Gutierrez; and eleven great grandchildren.
A visitation will be held from 5 to 7 p.m. on Sunday, November 13, at Troutman Funeral Home. A funeral service with full military honors will be conducted at 2 p.m. on Monday, November 14, at Troutman Funeral Home with burial to follow at Iredell Memorial Gardens. Rev. Connor Lambert will officiate.
In lieu of flowers, memorials may be made to the Iredell County Veterans Service, 200 S Center Street, P.O. Box 788, Statesville, NC 28687.
Troutman Funeral Home is serving the family.