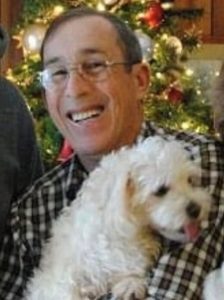 Bobby Lee Hefner, 73, of Statesville, N.C., entered his heavenly home surrounded by his family on October 27, 2022, at his home in Iredell County.
Bobby was born on May 3, 1949, in Iredell County. He was the son of the late Carl Hugh Hefner and Nellree Stout Hefner. In addition to his mother and father, Bobby was preceded in death by his brother, William Hefner, and his beloved dog, Dorothy.
Bobby honored our country and served in the U.S. Army. He was married to Debra Gatton Hefner for 43 years. He was of the Baptist faith. He retired from Hubbard Farms after 35 years. Bobby enjoyed gardening, NASCAR, and especially his wonderful grandson, Greyson, and his fur buddy, Piper. He was multi-talented and could handle almost any project or repair. He enjoyed conversations with his children, Logann, and his neighbor Bob.
Bobby leaves behind to treasure his memory his wife, Debbie Hefner of Statesville; a son, Adam Lee Hefner of Statesville; a daughter, Jennifer Hefner (Logann Foltz) of Winston-Salem; his grandson, Greyson Lee Hefner of Raleigh; and his beloved granddog, Piper. He has two brothers, Ronnie Hefner of Harmony and Randy Hefner of Statesville. He has four sisters, Shirley Childs of Statesville, Libby Shoffner of Sheffield, Nancy Estes of Harmony, and Julie Bowers of Union Grove, N.C.
On Wednesday, November 2, a graveside service will be held at Oakwood Cemetery in Statesville and will begin at 1 p.m. The viewing will be at Reavis Funeral Home between 10 a.m. and 12:30 p.m. In honor of his time in the service, Bobby will have full military honors at the graveside.
Memorials may be made to Sweet Home Baptist Church, 7173 Somers Road, Union Grove, NC 28689; ASPCA, P.O. Box 96929, Washington, DC 20090; or Community Hospice, 1308 Davie Avenue, Statesville, NC 28677
The Hefner family would like to send a special thank you to Megan and Amanda from Community Home Care and Hospice for their excellent service and care for Bobby.
The staff at Reavis Funeral Home of Statesville is honored to serve the family.