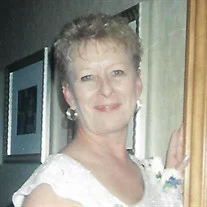 Brenda Kaye Shephard, age 71, loving mother of two and adoring wife to husband Garry Shephard, passed away peacefully in the early morning on the 19th of April, 2022, with her family by her side.
Brenda was born on October 26, 1951, by Ardna Lucille and Michael Walker Johnson in North Carolina with seven other siblings. She was happily married to her wonderful husband Garry Shephard for 57 years. The two of them had two beautiful, loving and caring daughters, Angelia Kaye Lewis and Tessa Gail Austin. Brenda Shephard had four grandchildren, Shannon Lewis, Brandi Morrison, Travis Austin, and Triniti Austin, followed by four great-grandchildren, Ace Morrison and Owen, Oaklyn, and Olson Lewis.
Brenda spent her years giving herself and her time to her religion and to everyone around her before she ever thought about herself. She is known to many as a mother and was the glue that held this family together. She spent her years caring and loving for everyone around her unconditionally. Her love is what defined the meaning of unconditional love; it had no limit. She would always seem to look at the brighter things in life and could bring a smile to anyone's face. She believed everyone had some good in them regardless of their situation. She remained a faithful Christian throughout her entire life, preaching and sharing the word of God to everyone, being a teacher and an adversary of the faith.
Although she may no longer be here on this earth in flesh with us, she always said to find comfort in that she is watching over us all and that she left a piece of herself with you to carry through this life. She has found her home and will be waiting for everyone with open arms and a big smile.
A Gathering of Friends will be held Tuesday, April 26, 2022, from 6 tom 8 p.m. at Nicholson Funeral Home.
Nicholson Funeral Home is honored to be serving the Shephard family.