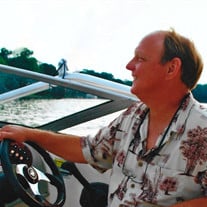 Bruno Raymond Dunn, 72, of Mooresville, N.C., peacefully passed away on Saturday, November 19, 2022. Born in 1950 in Lewiston, Maine, Bruno was the oldest of three sons to the late John and Jenny Dunn.
He was a wonderful husband and partner for 40 years and the loving father of three children. Bruno will be remembered as a kind man with a servant's heart who truly cared for those around him. He will be fondly remembered by those lucky enough to have met him.
Bruno graduated from Georgia Tech University with a master's degree in Chemical Engineering. He was an active member of Williamson's Chapel United Methodist Church in Mooresville. Bruno was also a member of the Matthews Chapter of Habitat for Humanity and volunteered with FeedNC. He enjoyed golf, skiing, biking, hiking, woodworking, and any outdoor activities. He loved his family and spending time with them.
He is survived by his wife, Donna Dunn; children, Rebecca Brydon and husband Robert, Jason Dunn and wife Lindsey, and Bradley Dunn and fiancée Gianna Velino; brothers, Arthur Dunn and wife Barbara, and Walter Dunn; and beloved nieces and nephews.
A Memorial service will be held at 1 p.m. on Friday, December 2, at Williamson's Chapel United Methodist Church with Rev. Mark Pitts officiating. The family will receive friends following the service at the church.
In lieu of flowers, memorials may be made to Williamson's Chapel United Methodist Church, 575 Brawley School Road, Mooresville, NC 28117 or Rock Steady Boxing, Mooresville (Parkinson's programs).
Cavin-Cook Funeral Home & Crematory, Mooresville, is serving the Dunn family. Condolences may be made to the family at www.cavin-cook.com.