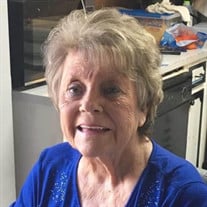 Celestine Amalie Kiser, 78, went home to be with Jesus on November 8, 2022. She was born in Trammel, Va., on April 13, 1944, to the late Rev. Giles Kiser and Viola Kiser.
She is survived by her loving husband of 50 years, Ronnie Darrell Kiser. Also surviving are her three children, Teresa Forrest and Tammy Lockamy of the home, and Sherry Jenkins (Vincent) of Statesville. She had seven grandchildren, Josh Kiser of Stony Point, Rhiannon Forrest of Alderson W.Va., Byron Forrest, Mercedes Jenkins, and Joseph Lockamy, all of Statesville, Tara Eads of Honaker, Va., and Cameron Forrest of Charlotte, N.C. She also had ten great-grandchildren, Chandler Forrest, Caleb Forrest, Jada Hughes, and Amalie Eads, all of Honaker, Va., Peyton Shores, Mason Shores, Brayden Forrest, Natalie Forrest, Gabriel Forrest, and Autumn Miller, all of Statesville. Also surviving are two special friends, Ruth Warren and Susan, her caretaker.
She was preceded in death by her parents and two brothers, Rev. Buford Kiser and Rev. Billy Kiser, and five other siblings; and great-grandson, Kaulder Miller.
She was a member of Welcome Inn Christian Ministries.
Funeral Services are Sunday, November 13, 2022, at 3 p.m. at the Nicholson Funeral Home Chapel with the Rev. Raymond Kiser officiating. Family will receive friends after the service. Burial will be Monday, November 14, 2022, at 11 a.m. at Iredell Memorial Gardens.
Nicholson Funeral Home is entrusted with the arrangements.