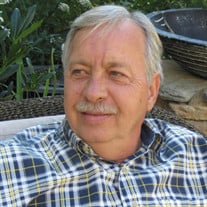 Charles "Chuck" Elliott of Statesville, N.C., a proud veteran of United States Army passed away June 29, 2022, at 5:42 a.m. after a courageous battle from complications of Agent Orange. Charles served in Vietnam with the 1st Air Calvary, Alpha Company, 2nd Battalion 7th Calvary and was a member of the N.C. Chapter of the 1st Air Cav. Charles was born November 26, 1949, in Iredell County, N.C., to the late Roy and Ruby McLain Elliott.
In 1974, Charles opened Elliott's Automotive, where he worked until his retirement in 2009. He thoroughly enjoyed remodeling classic cars.
In addition to his parents, he was preceded in death by his brothers, Ervin Elliott and Harold Elliott, and sisters, Evia "Sis" Estes and Shirley McHargue.
Those left to cherish his memory include his loving wife of 53 years, Brenda Shinn Elliott; daughter, Kimberly Elliott Newton (Marc); son Charles Douglas "Doug" Elliott (Deb); and two wonderful grandchildren, Molly Rose Newton and Max Newton; and his canine companion, Toby Boy. Charles is also survived by brothers Everett Elliott, Benny Elliott, and Kutteh Elliott, and sister, Vallie Ingram.
The Elliott family wishes to thank our family, friends and community for their gracious love and support.
In lieu of flowers, memorial donations may be made to Wounded Warriors Project at www.woundedwarriorproject.org.
The visitation will be held Thursday, June 30, 2022, at Nicholson Funeral Home from 6:30 to 8:30 p.m.
A service honoring his life will be held on Friday, July 1, 2022, at Broad Street Church of Christ at 11 a.m. Burial will follow at Oakwood Cemetery.
Online condolences may be sent to www.nicholsonfunerals.com.
Nicholson Funeral Home is honored to serve the Elliott family.