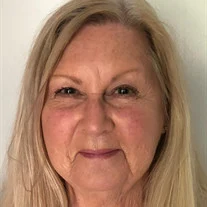 Donna Paulette Bost, 71, of Mooresville, N.C., passed away on April 28, 2022. She was born on November 1, 1950, in Concord, N.C., to Hazel Orren Martin and the late Calvin Martin.
Donna was a member of Shadybrook Baptist Church, where she served with the food pantry. Donna loved her poodle, Bobo, and riding in the golf cart with him. She enjoyed shopping and visiting Gatlinburg, and she was an avid reader. She liked to do puzzles and fold laundry. She looked forward to time spent with family. She was deeply loved and will be greatly missed.
In addition to her father, Donna was preceded in death by her brother, David L. Martin.
She is survived by her husband, Tom Bost; mother, Hazel Orren Martin; children, Lynn Hill (Kell) Mitchell Deal; stepchildren, John Bost (Shawnda) and Jamie Bost (Misty); grandchildren, Kelly Smith, Cody Hill, Caleb Hill, CJ Hill, Tiffany Deal, Tanner Deal, JT Bost, Zoey Bost, Journey Bost, Sam Bost, and Alisha Davidson; great-grandchildren, Shelby, Corey, Kruz, and Kyla.
A visitation will be held from 10 to 11 a.m. on Tuesday, May 3, 2022, at Shadybrook Baptist Church, Kannapolis, NC with a funeral service to follow at 11 a.m. with the Pastor Charlie Littlejohn officiating.
In lieu of flowers, memorial contributions can be made to the Alzheimer's Association, 225 N. Michigan Avenue, Floor 17, Chicago, IL 60601.
Cavin-Cook Funeral Home & Crematory, Mooresville, is serving the Bost family. Condolences may be made to the family at www.cavin-cook.com.