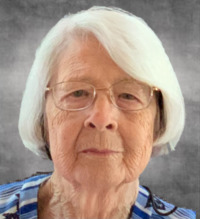 Doris Zolene Cates Thomas, 88, went to be with her Lord peacefully on Sunday, May 29, 2022, in her home in Jupiter, Fla.
She was born on October 4, 1933, in Statesville, N.C., to the late John Ivey Cates and Ida Lou Hoover Cates. She was the youngest of ten children. After graduating from Celeste Henkel School in 1951, she worked as a bookkeeper at Davis Hospital and Southern Screw Company. On October 14, 1956, she married her loving husband of 61 years, Roy C. Thomas, and they moved to Maryland, where she worked as an administrative assistant. In 1965 she became a stay-at-home mother and housewife.
Doris was preceded in death by her husband, Roy C. Thomas; son, Steven Wesley Thomas; parents, brothers and sisters. She will be remembered as an exceptional wife, mother, sister, grandmother and great grandmother.
She is survived by her children, Alice Elaine Thomas Thompson and Kevin Wayne Thomas; sister, Reba Nell Cates Josey; grandchildren, Steven Charles Wise Thomas (Shannon McGough), Melissa Anne Williams (Henry F. Williams Jr.), and Brianna Elizabeth Thompson; and great-grandchildren, Chastidy Lynn Williams, Jasmine Kay Williams, Zolena Marie Williams, and Cassidy Rose Thomas.
The family will greet family and friends from 12 noon to 2 p.m. on June 4, 2022, at Troutman Funeral Home, Troutman, N.C. The funeral service will be held on June 4, 2022, at 2:30 p.m. at Mt. Hermon Lutheran Church, Statesville, N.C., with burial to follow.
Troutman Funeral Home is serving the family.