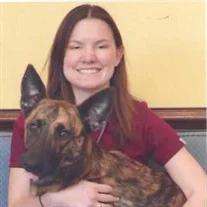 Dr. Andrea G. Watson (DVM) passed away on Monday, October 24, 2022, at her residence in Battleboro, N.C. She was 33 years old.
Andrea was born on May 16, 1989, to Gregory and Kathleen Watson in Statesville, N.C. She attended Statesville High School, graduated as salutatorian, and was awarded Statesville High's only Park Scholarship from N.C. State University. She graduated from N.C. State University as one of several co-valedictorians and received the Food Animal Scholars Award while enrolled in the N.C. State School of Veterinary Medicine. She received numerous scholarships during her educational career.
During her years in school, she worked in Australia, India, Brussels, and France. She was awarded a scholarship one summer to work with the government on potential Hoof and Mouth epidemic off the coast of Connecticut and achieved a Level 3 Security Clearance. During summer and holiday breaks, she worked externships in Wisconsin and New York. One year she worked in veterinary missionary work with the Indians in New Mexico, treating their animals by day and preaching the gospel by night. Also at NC State, Andrea was an active member of the Alpha Zeta Honors Fraternity and was president of the Bovine Club.
Dr. Andrea started her professional career at Endless Mountain Veterinary Center in Rome, Pa., and worked in both Pennsylvania and New York on large animals for three years. She was especially skilled in Bovine Medicine and loved her cows. In 2016, she was offered a position back in Roanoke Rapids, N.C., working with Roanoke Animal Hospital for NVA as a small animal vet. After her first year at Roanoke Animal Hospital, she was named one of NVA's youngest Medical Directors. She served as Medical Director from 2017 until her death. Her hospital was awarded the Presidents Award for NVA in both 2020 and 2021 which was the top Animal Hospital Award in the Carolinas.
At St. John's church in Roanoke Rapids, she served as a reader and a money counter. She also served as a volunteer for the Park Scholarship Committee at North Carolina State University in which she interviewed semifinalists in the selection process.
Left to cherish her memory are her parents, Greg and Kathy Watson; her sister, Joanna Watson Taub (Jesse); her nephews, Ayden and Colson; her niece, Cailyn; her Aunt Mary Eckbold; her Aunt Diane and Uncle Gene Szostak, in addition to her grandfather, Gene Szostak, as well as many friends. Also left to cherish her memory are her fur babies, Skye, Nova, Sydney and Holmes.
The family says Thank You to the supportive team at Roanoke Animal Hospital. A very special thanks to Christina Martin (Office Manager) who was a dear friend/sister.
A Mass of Christian Burial will be held at St. Philip the Apostle Church on Monday, November 7, 2022 at 11 a.m. Visitation will be held Sunday evening, November 6, 2022, at Nicholson Funeral Home from 5:30 to 8 p.m. with a Rosary Service from 5 to 5:30 p.m. prior to visitation. All are welcome to attend the Rosary.
In lieu of flowers, donations can be made online to NOMV (Not One More Vet), an organization that helps with the suicide issues surrounding veterinarians.
Fond memories and condolences may be left at www.nicholsonfunerals.com.
Nicholson Funeral Home is honored to serve the Watson family.