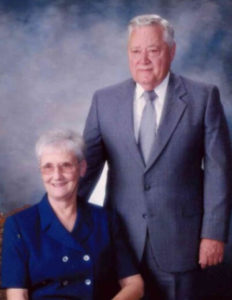 It is with sadness and peace that we announce the deaths of Thelma and Dewain Lewis. Mrs. Lewis passed away Tuesday afternoon, October 25, 2022, and Mr. Lewis passed away early Wednesday morning, October 26, 2022.
On June 27, 2022, they celebrated their 75th Wedding Anniversary.
Thelma Whitener Lewis was born in Iredell County, N.C., on September 4, 1929, the daughter of the late Robert Earl Whitener and Mamie Mills Whitener Davis. She was a graduate of Troutman High School and was a bookkeeper for Modern Electric in Statesville, N.C.
In addition to her parents, she was preceded in death by two brothers, Carl Whitener and Robert Whitener; a sister-in-law, Lucy Whitener Miller; and a great grandson, Thomas King.
Dewain Dwicker Lewis was born in Guilford County, N.C., on November 17, 1929, the son of the late William Mitchell Lewis and Junior James Lewis. He graduated from high school after attending Troutman High School and was the Data Processing Manager for Colt Industries in Davidson, N.C.
In addition to his parents, he was preceded in death by a brother, Grady Lewis, and a great grandson, Thomas King.
Those left to cherish their memories are a son, Michael Lewis; a daughter, Sherry Lewis Black (Sammy); two granddaughters, Kristen King and Jayme Parrish (Michael); and five great grandchildren, Colin King, Norah King, Elliot King,Graham Parrish and Hadley Parrish. They are further survived by two sisters-in-law, Brenda Whitener and Edith "Pete" Lewis.
Graveside services celebrating the lives of Thelma and Dewain Lewis will be conducted by Reverend Jeff Hamrick at 2 p.m. on Sunday, October 30, 2022, at Troutman United Methodist Church in Troutman, N.C.
Those wishing to make memorials are asked to consider the following: S Mitchell Mack Hospice House, 1325 Mecklenburg Highway, Mooresville, NC 28115; and Troutman United Methodist Church, 204 Mills Street, Troutman, NC 28166
The family would like to express their sincere appreciation and thanks to the full staff at the Hospice House of Mooresville for their constant care of Thelma and Dewain and for allowing them to be together during their passing.
Troutman Funeral Home is serving the family.