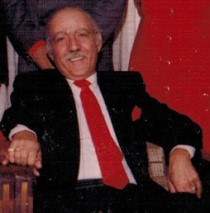 Mr. Edward Roy Fonseca, 84, passed away on Tuesday, April 19, 2022, at 1016 Bent Pine Court, Lenoir, N.C. He was the son of the late Manuel Joseph Fonseca and Cecila Bray Fonseca and was born in Yarmouth, Mass., on September 3, 1937.
After his educational training, he served with the United Army and was honorably discharged. He was a member of the New Life Missionary Baptist Church in Troutman. He was united in marriage to Annie Marie "Mother Love" Falls Lowery Fonseca, who preceded him in death. In addition to his parents and wife, he was preceded in death by daughters, Loretta Fonseca Edgerton and Tawanda Magdeline Fonseca; and his siblings, Richard Fonseca, Manual Joseph Fonseca Jr., Robert "Bobby" Fonseca, Josephine Fonseca Correia, Patricia Fonseca DeSantos, Kenneth Fonseca and an infant sibling, Patricia Fonseca.
Edward leaves to cherish the memories of his life his children, Billette Hewitt of Statesville, Gladys "Robbie" Davis of Decatur, Ga., James "Jimmy" (Virginia) Lowery of Decatur, Ga., Edward Roy Fonseca Jr. of Providence, R.I., Edward Roy Fonseca Jr., and Joseph Michael "Mike" Fonseca Sr., both of Statesville, and Terrance Williams of Jackson, Fla.; one brother, Antonio (Eartha) Fonseca of Austin, Texas; one sister, Shirley (Ronald) Surprenant and sister-in law Dolores Fonseca of New Bedford, Mass.; grandchildren, James (Lisa) Davis of Decatur, Ga., Deidre Hewitt of the home, Willie Paul Davis Jr. of Decatur, Ga., James (Mexia) Edward Nesbitt of South Carolina, Teresa Stamps Holmes of Taylorsville, Tisha Hewitt Augustus of Statesville, Kenneth (Shontae) Edgerton of Taylorsville, Shante Ogletree of Taft, Calif., Tia Edgerton of Statesville, Kia Edgerton of Statesville, Vanessa Louis of San Jose, Calif., LeJon Louis of San Jose, Calif., Joseph Michael Fonseca Jr. of San Jose, Calif., Kelly Fonseca of San Jose, Calif., Kaylee Fonseca of Mooresville, and Lawson Fonseca of Statesville; 17 great-grandchildren; five great-great grandchildren; a host of nephews, nieces, cousins, other relatives and friends.
A Celebration of Life will be held on Wednesday, April 27, 2022, at New Life Missionary Church, Troutman, N.C. Visitation will be held from 11:30 a.m. to 12 noon, and Pastor Ivan Cowan will give the eulogy at 12 noon. Burial will be held at the National Cemetery in Salisbury, N.C., at a later date.
Visit the book of memories for Edward Roy Fonseca at www.rutledgeandbigham.com.
Rutledge and Bigham Funeral Home is serving the Fonseca family.