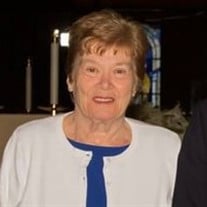 Winifred Catherine "Winnie" Tobias of Mooresville, N.C., and formerly of Howard Beach, N.Y., passed away on Saturday, February 12, 2022. She was born February 2, 1937, in Brooklyn, N.Y., daughter of the late Charles and Agnes Tobin Kelley.
In addition to her parents, she was preceded in death by her husband of 40 years, Alphons; and her brother, William, and sister, Jane.
Winifred was a graduate of Bay Ridge High School and spent her early years in Bay Ridge, Brooklyn, until moving to Ozone Park, Queens, in 1961 when she and Al were married. She was employed as a teller at Marine Midland Bank before leaving the workforce to devote herself to raising her family. She also worked part time at the Woodhaven branch of the N.Y. Public Library in the 1990s. She was somewhat proud of the fact that she never learned to drive and walked everywhere as well as getting around on New York City buses when her destination was too far away to walk. When her daughters and their families visited, one of her favorite things to do was go out to lunch at Lenny's Clam Bar in Howard Beach and then head down to Carvel to pick out a cake for dessert regardless of whether or not it was anyone's birthday. Before relocating to North Carolina, Winnie was a member of Nativity of the Blessed Virgin Mary and St. Stanislaus Bishop & Martyr parish. She joined the Confraternity of Christian Women (which she always referred to as "The Mothers' Club") at St. Stan's in 1970 and was active in the Columbiettes and Golden Age at Nativity. She loved going on church bus rides to Atlantic City and was always excited to talk about her winnings, which never exceeded double digits.
She is survived by her two daughters and their husbands, Barbara Tobias and Jason Josephs, and Carol and Phillip Ottaviano; and six grandchildren, Timothy, Matthew, Lindsay, Andrew, Catherine, and Mary.
Calling hours will be Monday, February 21, from 3 to 7 p.m., at James Romanelli-Stephen Funeral Home, 89-01 Rockaway Boulevard, Ozone Park, N.Y. Mass will be Tuesday, February 22, at 9:45 a.m., at Nativity of the Blessed Virgin Mary Church, 91-01 Rockaway Blvd., Ozone Park. Interment to follow at St. John Cemetery, 80-01 Metropolitan Avenue, Middle Village, N.Y.
In lieu of flowers, memorial donations may be made to Helping Hounds Dog Rescue, 7268 Caswell Street, North Syracuse, NY, 13212, (315) 446-5970 or IGNITE Davidson Community Center for Young Adults with High Functioning Autism, 209 Delburg Street, Davidson, NC, 28036, (704) 897-8982.
Cavin-Cook Funeral Home and Crematory, Mooresville, is serving the family. Condolences may be made to the family at www.cavin-cook.com.