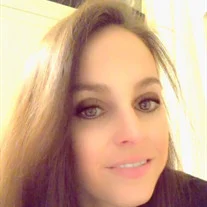 Emily Elizabeth Landis, 39, of Sherrills Ford, N.C., passed away on Sunday, October 9, 2022, surrounded by her family. Emily was born on May 24, 1983, in Mecklenburg County to Edward Everett Landis Jr. and Glenda Hodges Landis.
She enjoyed working as a financial advisor at Suntrust Bank, going on mission trips with her Williamson's Chapel church family, exercising with her father at the local YMCA. She was an avid animal lover which included horses, dogs and many other animals. She enjoyed planting flowers and painting, would always reach out and help those that were in need. Most of all Emily was a very loving and wonderful mother, daughter, and friend.
Emily was preceded by her grandparents, Dr. & Mrs. Edward E. Landis Sr., and Mr. & Mrs. Glenn L. Hodges.
Along with her parents, Emily is survived by her daughter, Naomi Rayne Lumston; sister, Allyson Fogle (Scott); brothers, Edward Landis III (Dawn) and Eric T. Landis (Donna); nieces, Sarah Landis-Cosgrove (Jack), Erin Landis Hodges (Daniel), and Clare Landis; nephews, Christian Landis, Jackson Fogle, and Cooper Fogle; great niece, CeCe Cosgrove; and great nephews, Teddy Hodges and Patrick Cosgrove.
A Celebration of Life will be held at 2 p.m. on October 22, 2022, at Williamson's Chapel United Methodist Church, Mooresville.
Cavin-Cook Funeral Home, Mooresville, is serving the Landis family. Condolences may be made to the family at www.cavin-cook.com.