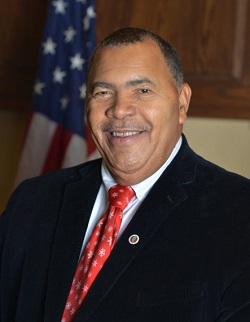 Marvin Norman, 70, of Statesville, N.C., passed away Wednesday, September 14, 2022, at Duke Medical Center in Durham, N.C.
Mr. Norman was born June 3, 1952, in Iredell County, the son of the late JQ Norman Sr. and Flora Bratton Norman. Marvin was a graduate of North Iredell High School, Mitchell Community College and UNC Charlotte. He was a member and Elder of Calvary Presbyterian Church and was retired from Energy United following 29 years of service. He retired as manager of Community Relations.
Marvin served as an Iredell County Commissioner from 2002 until his death. During his tenure, he served as Vice Chairman and Chairman. Mr. Norman served on the Hazardous Mitigation Plan Committee, Juvenile Crime Prevention Council and Recreation Advisory Council, Iredell County Partnership for Young Children and Education Task Force. He served the public through his involvement and dedication of the following groups: Mitchell Community College Board of Trustees, Iredell County Planning Board, Iredell Memorial Hospital Board, Statesville Chamber of Commerce, Criminal Justice Partnership Program, Hazardous Waste & Low Level Radioactive Waste Management Board, Information & Referral Council, Future Forward Economic Alliance, South Iredell Community Development Corporation, North Carolina Association of County Commissioners Liaison, Big Brother Big Sister Board, BB&T and Truist Board, and CIYAA Athletics. He was further involved in the community through his involvement in Rotary Club and Sertoma Club. Marvin was a proud veteran of the U.S. Army Reserves. On February 18, 1973, he was married to Juanita Templeton Norman, who survives.
Mr. Norman was preceded in death by his sisters, Nevada Parker, Alma Ramsey, Mary Helen Wimbish and JoEvelyn Morrison; and his brothers, Tommie Norman and Renard Carlton.
In addition to his wife, he is survived by a son, Marvin Alan Norman (Kimberly) of Lenoir; his daughter, Marcy N. Gibbs (Clayton) of Conover; his grandchildren, Donavon Norman, Breanna Norman, Maurice Knox, Isiah Knox (Crystal), Cali Norman, Carter Norman, Brody Burns, and Sonny Burns; four great-grandchildren, La-Niah Knox, Mahogany Knox, Jasmine Knox, and Bri'elle Norman. He is further survived by two brothers, JQ Norman Jr. of Statesville, and twin brother, Ervin Norman (Paulette) of Ronda; his sisters, Flora N. Kennedy of New Jersey, Jo Anne N. Thomas (William) of Charlotte, Queen N. Morrison (John Wayne) of Catawba; brothers-in-law, Clarence Wimbish of New Jersey, Nathaniel Ramsey of Troutman, John Templeton of California and Clarence Maxie Templeton III of Harrisburg, N.C.; sisters-in-law, Marie Wellman of Harrisburg, N.C., and Darleen Sherrill of Statesville; daughter-in- law, Karen Norman; and a number of nieces, nephews and cousins. He is also survived by special friends, Ronnie and Ann Wooten, and Doug and Charlene Knight.
A visitation will be held from 11 a.m. to 1 p.m. on Saturday, September 24, at First Baptist Church in the Adams Hall. Funeral services will be conducted at 1 p.m. in the church sanctuary with Rev. Timothy Bates officiating. Burial will follow in Oakwood Cemetery.
Those wishing to make donations in Marvin's honor are asked to consider the Mitchell Community College Endowment Fund or St. Jude Children's Research Hospital.
Troutman Funeral Home is serving the family.