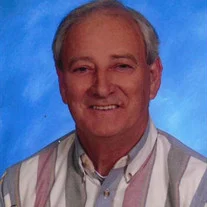 Franklin "Darrell" Tevepaugh, 75, of Mooresville, N.C., passed away on Monday, July 18, 2022, at his residence. He was born on March 8, 1947, in Mooresville to the late Robert and Viola Jordan Tevepaugh.
Mr. Tevepaugh was a member of Shearer Presbyterian Church in Mooresville. He painted houses for many years and enjoyed restoring classic cars. He loved drag racing.
In addition to his parents, he was preceded in death by sisters, Violet Norsk and Linda Hambright; and brother, Jerry Tevepaugh.
He is survived by his wife of 39 years, Linda Lineberger Tevepaugh; sons, Freddy Tevepaugh (Marcos) and Donnie Tevepaugh (Angela); sister, Elaine Prowker; brothers, Bobby Tevepaugh, Robert Tevepaugh (Annie), and Tony Tevepaugh (Sherry); and grandsons, Nicolas, Nathan, and Jacob Tevepaugh.
The family will receive friends on Saturday, July 23, from 2 to 3 p.m. with a service following at 3 p.m. at Cavin-Cook Funeral Home Chapel. The family requests that those who have a classic car please drive them to the service.
In lieu of flowers, memorials may be made to Shearer Presbyterian Church, 684 Presbyterian Road, Mooresville, NC 28115 or Hospice and Palliative Care of Iredell County, 2347 Simonton Road, Statesville, NC 28625.
The family would like to give a special thank you to Dr. Ferguson, Novant Cancer Center and Hospice of Iredell County for their loving support and care.
Cavin-Cook Funeral Home & Crematory, Mooresville, is serving the Tevepaugh family. Condolences may be made to the family at www.cavin-cook.com.