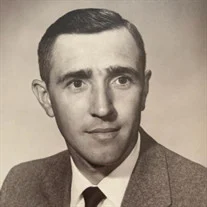 George Edgar Ingram, 91, passed away on November 19, 2022. Mr. Ingram was born December 14, 1930, to Mr. James Preston Ingram Sr. and Mrs. Mary Cowan Ingram.
Mr. Ingram joined the U.S. Army reserves in January 1951; he served his country honorably until he retired in January 1981 as a lieutenant colonel. George also worked for the Department of Agriculture for many years as the program administrator. As a hobby for several years, he grew and sold Christmas trees. Upon retirement, he began woodturning and became a member of the Woodturning Association and the Local Craft Guild.
George was preceded in death by his parents; his wife, Doris Ingram; sister, Mildred Ingram Hamby; brothers, James P. Ingram Jr. and Clarence Ingram.
He is survived by his daughter, Amy Ingram (Jeff Koonce) Statesville, NC ; granddaughter, Kimberly Harr of Catawba, N.C.; nephew, Dr. Mike Hamby (Teresa) of Fuqua-Varina, N.C.; nieces, Linn Lope of Durham and Charlotte Ingram of Fayetteville, N.C.; sister-in-law, Mary Jane Ingram of Fayetteville, N.C.; and many other great nieces and nephews.
A Celebration of life will be held Saturday, November 26, 2022, at 12:30 p.m. at Bethany Presbyterian Church followed by a visitation.
Nicholson Funeral Home is serving the family.