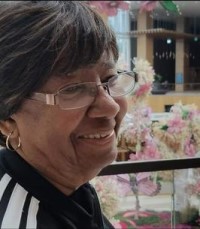 Mrs. Hattie Moize Mayberry Parker, 86, of 1661 Drumstand Road, Stony Point, N.C., was born in Iredell County, N.C., on October 16, 1935, to the late Walter Pinkey Mayberry and Laruna Sharpe Mayberry. When Hattie was 12, her mother passed away. Her father remarried the late Quay Mauney Mayberry.
At a young age, she gave her life to Christ while a member of Zion Chapel A.M.E. Zion Church in Hiddenite, N.C., and she was later baptized at Third Creek Baptist Church in Stony Point, N.C. In 1954, she married the love of her life, Freddie Lee Parker Sr., who preceded her in death after 40 years of marriage. In addition to her parents and husband, she was preceded in death by her son, Michael Owen Parker; and three siblings, Hazel Mayberry Parker, Jerry Mayberry, and Charles Mayberry.
Hattie Moize peacefully entered into eternal rest on Sunday, February 20, 2022.
She was a graduate of Happy Plains High School and retired from Wardolf in Taylorsville, N.C. Her hobbies including sewing, reading, walking, traveling and she was known for making persimmon pudding for family gatherings. She was a faithful and dedicated member of Third Creek Baptist Church, serving faithfully in various roles, including Sunday School teacher, Missions teacher, Deaconess, Usher Board member, and helping to organize the youth choir. She also was a supporter of the Mountain and Catawba Missionary Baptist Association, the Women's Foreign Mission, the NAACP, and enjoyed visiting the sick and shut-in.
She leaves to celebrate the memory of her life her children, Freddie Lee Parker Jr. of Winston-Salem, N.C., Judy Parker (Gilbert) Wiggins of Raleigh, N.C., Jeffery Dean (Maria) Parker of Savannah, Ga., and Margie Parker (Victor) Gibson of Raleigh, N.C.; a daughter-in-law, Ella Parker of Richmond, Va.; grandchildren, Rashad Miller, Kandris (Carl) Redmon, Tania Wiggins Brown, Shante (Eric) Sellers, Coty Tyree (Kizzy) Wiggins, Preston Parker, Jasmine Gibson, Parker Gibson, Olivia (Alexander) Casimir, and Owen Parker; great grandchildren, Aaliyahh Odom, Iysis Whitfield, Ahkiyla Wiggins, Khyreem Hasadd, and Tariah Brown; great great grandchildren, Zimirius and Arabella McCorkle; her siblings, Christine Mayberry (David) Stokes, Walter Cecil (Valerie) Mayberry, Gwendolyn Mayberry, Wanda Mayberry, Denise Mayberry, Melvin Mayberry and Leon (Claudette) Mayberry; an uncle, Herbert Mayberry; in-laws, Emily Mayberry, Betty P. Banks, Carrie P. Pulley, Bertha W. Parker, Farley (Agnes) Parker; and a host of nieces, nephews, cousins, the Third Creek Baptist Church Family, neighbors, other relatives and friends.
Celebration of Life Services will be conducted Saturday, February 26, 2022, at Third Creek Baptist Church at 11:30 am. Reverend Tommy Carpenter will officiate and burial will follow in the Church Cemetery.
Moize will remain at Rutledge and Bigham Funeral Home until taken to the church to lie in state at 10:30 a.m. Members of the family will receive friends at the church from 11 until 11:30 a.m. but will assemble at the residence at other times.
We give special thanks to all of her loved ones who have traveled this journey called life with us for years. We are grateful for her caregivers, Sonya Parker, Agnes Parker, Wanda Bennett, and Melissa Stokes and the sacrifices they made to make her later years pleasant and enjoyable. We love you all and are grateful for the relationships and memories created with our family.
As this chapter of her life closes on this side, we rejoice in the knowledge that we will see her again on the other side, in the arms of our Heavenly Father.
Visit the Book of Memories for Mrs. Parker at www.rutledgeandbigham.com.
Rutledge and Bigham Funeral Home is serving the Parker Family.